Samplers made at the Chesterford School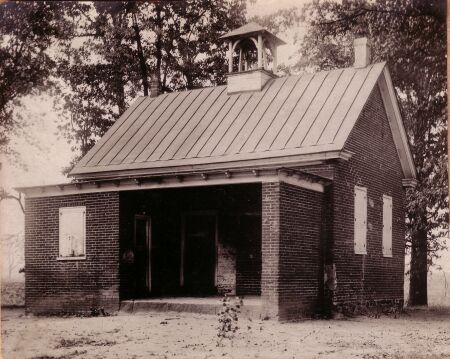 The Chesterford School, later named the Maple Shade School
Chesterford would denote the section of Chester Twp. separated by the two branches of the Pennsauken Creek. Pennsauken Twp. then was named Waterford Twp. You had to "ford" or cross the creek.
This is not saying the area itself ever took on that name. We know that later on part of it became the "Chesterford school district." (and tax district)
Two Samplers Depicting the Westtown School-


Dated 1812, Thought to be made at
the Evesham or Chesterford School


Dated 1814, by Lydia Burrough at Chesterford School
(Click on image for a larger image)
The children of this area were generally Quakers and usually came from some wealth. Their parents often or usually sent them to boarding schools, private schools, and then probably onto Swarthmore College. Here is a link to the Westtown School. In Joseph Walton's memorial book it says that he went there as well.
Westtown School


The 1812 sampler asked a high price at auction.


(If you search ebay for "Sampler," alphabets can be bought in the hundreds of dollars range, and old elaborates go from $1000 to the highest I seen was $5000.)
An interesting point now is that we would know the school was called "Chesterford School" in 1814, but we don't know if it had a name even in 1812. Or it could have been made at the Evesham school which might have had the same teacher. Which brings up another point- Who taught sampler making to the girls? Iam sure the boys would have been learning something else. Also this leads to another thought that today girls and boys learn about the same but did the girls back then learn cyphering (math) etc...or just the boys? We also only presume Emmanuel Beaggary taught first at the Chesterford School. We know he did teach at the old log cabin school between the forks of the creek prior.
(For further reference the Burlington County Historical Society has cyphering books made by Enoch Roberts and a few Samuel Roberts saw mill records books.)
Chesterford?-
Where is that? Well the picture at some point was found out to be of the Westtown School and not as people guessed of a school "near West Chester," etc... Below are pages in an early American Samplers book-
http://www.archive.org/stream/amersamplers00bolt#page/134/mode/2up/search/chesterford
http://www.archive.org/stream/amersamplers00bolt#page/308/mode/2up/search/chesterford
http://www.archive.org/stream/amersamplers00bolt#page/386/mode/2up/search/chesterford
Betty Ring-
Betty Ring seemed to understand things, whether she figured it all out or others along the way but the Lydia Burrough sampler is featured in her book Girlhood embroidery: American samplers & pictorial needlework, 1650-1850, Volume 1. (The 1812 Sampler, according to the above auction page is in Vol. 2) Below are some sentences from Vol. 1 concerning Lydia Burrough's sampler. Google Books search only gives small snippet views-
Betty Ring - 1993 - 583 pages

-

Snippet view

The school was kept in a one-room red brick building constructed by Joseph Burrough (the father of Lydia) on a lot he donated for school use in 181 1.M Lydia and her sister Rachel both left samplers naming the Chesterford School, ...


books.google.com

-

More editions
Lydia Burrough-
Joseph Burrough was the son of Samuel Burrough who had a grist mill, and brother to Samuel Burrough who went to Evesham and owned the "Collins Lane house." He had a son Joseph and a son Reuben, and I think a son William (offhand). Reuben inherited the grist mill. Joseph was the one who deeded the Chesterford School to neighborhood subscribers in December 1811. He had a daughter Lydia. I do not know if the below infos. are all correct. (from a Burrough family geneaolgy) BTW sometimes its Burrough, sometimes Burroughs, and sometimes it was Burrough but the surrogate's office just wrote Burroughs down on the labeling.
The poem on her sampler is called "Contemplation." Here are the words-
And I was so proud of the hand print in ceramic clay I made for my Mom in Kindergarten! If the genealogy above is correct, she would have been 14 years old when she made that sampler. I think the tendency today is to downgrade people of the past to a caveman protocol or a lesser state is what I mean. This is not actually correct.
Martha Cowperthwaite Sampler-


The sampler really should go to the Maple Shade Historical Society
(NOT the Moorestown Historical Society) and be housed at the Chesterford School.


Compare the "baskets" in the Lydia Burrough sampler with the Martha Cowperthwaite one.
Home