Welcome!
I hope you enjoy learning some of Maple Shade's history.
Maple Shade Historical Society
Chesterford School Open House
Saturday March 24, 2018 at Chesterford School
(West Main St., Maple Shade across from the Custard Stand and Steinhauer Park)
10 AM to 2 PM. Come on out and visit!


Collins Lane House Wall Pic-
This is from Lorraine Agnew (I saved the email from years ago) She was a writer for the Maple Shade Progress and took this photo of the wall of the Collins Lane house from which the house across the street was taken.
Perhaps, seeing the whitewash, this hand hewn beam means the first floor of the back part was first from the mid 1700s. Or perhaps that is the Kitchen addition from 1790s and this wall is from old part moved across street and you saw an exposed beam.
We had so many ball fields having pro jobs done on them while this house sat. Now it might be torn down.
Brief History Project-
I try to write briefs. I guess I am breaking it down as well and this is part one of several parts.-
Establishment of Maple Shade Township pdf
Effort to svae the Collins Lane House
The Twp has super high amounts for restoring things. The silo is from about 1900- 1930 built probably for animals to eat extra orchard waste I would guess. Why oh I can't even go on...... anyhow.. Here is newspaper stories. If the 1000 plus people that signed the petition showed up at the Town Meeting it would have been nice. It is a sad Facebook World! At least some people showed an interest and tried. Maybe they might save it. Good point was how Mill Road school can buy a house and tear it down and that cost is just like a drop in the bucket..
Courier Post newspaper story
Burlington County Times newspaper story
November 5th Update-
The Historical Society talked to the Township Manager and he said, "They are going to tear down the Collins Lane House and silo by the end of the year. The corner beams are dry rotted on the house. They are going to put a kids playground there.
I would say it would be cheaper to build walls inside of walls or whatever then to tear it down. They don't want to be bothered with it. They could put dirt in the silo to stop kids from playing inside.
A group who are trying to stop the TWP Council are going to nerxt Thursday's Town meeting I heard.
Collins Lane House and Silo Rumored to be torn down-
Someone emailed me-

I understand the Collins lane house and silo are scheduled to be demolished?? Is there no way to preserve them? Didn't know if you had any information on this. Do you have any idea what we can do? Iím happy to do the leg work- just donít know where or what to do


I did everything back years ago. Was a fight!!!!!!!! Jump in anyone who sees fit.

I could say something on my webpage. The TWP keeps ignorant on history.

The area was first known as Stiles Corners for the many Stiles farms.

There by the train station was first named Stiles Station.

The first school teacher at the One room school house was probably Emmanuel Beagarry who rented that house from the Burrough family

A portion of the rent was to go to building Cropwell Meeting (Marlton).

It was Joseph Rudderow's house in the early 1700s when all that land was Rudderow's.

Speaking of Rudderows they gave an 1800s Dough Tray table to the Historical Society because it was in that house in the 1800s.

Henry Stiles who started Stiles Drug store in Moorestown was born in that house.

-Dennis


Maple Shade Historical Society at Sidewalk Sale


I was at the table selling the Progress books.


My cousin Robbie took this of me at the sale. I am making a "Huh" face.

Here are the "Fun Facts" I had on notes on the table-
Did you know-
Our Main street is a straight road from Moorestown to when they had Cooper's Ferry across the Delaware River to Market Street Philadelphia for farmers to take their produce to sell.
From the 1850s to the 1950s Maple Shade had a brickyard in operation. From the early 1900s to the Depression there were two brickyards.
Maple Shade in 1860 was a hamlet called "Stiles Corners" due to the many Stiles family farms in the area. (The Collins Lane house being one)
Barlow & Company were the primary developers of Maple Shade until the Depression.
Thomas Barlow was a member of the Bridge and Tunnel Commission and the Benjamin Franklin Bridge which opened in 1926 was then the longest suspension bridge in the world.
The first vehicle procession over the bridge was prior to its opening. It was the funeral procession of Annie T. Barlow, Thomas' wife.
Maple Shade's railroad station was originally in 1869 called "Stiles Station." The Railroad Co. changed the name to "Maple Shade" in 1874.
Maple Shade for decades had 20 liquor licenses. (Sometimes 17 bars!) I believe in the late 30s it had 21 for a few years but the guy never opened a place and moved.
-Dennis
Maple Shade Gardens video-
Progress book still for sale
The Historical Society still has 2 boxes of books we ordered to sell. This is the best time to buy one as you can look back at whatever week's paper (1917 papers) and see what was happening in Maple Shade 100 years ago!


-Dennis Weaver
856-667-8728

1859 Map shows Maple Shade's first brickyard
1859 Map at Library of Congress
You can download this 1859 Map of Burlington County in high formats like TIFF, large jpg. Maple Shade had a brickyard in 1859. The symbol is hard to understand but easy when you compare it to the brickyard that was at the "Mini Pond" as we used to call it as kids - the little park with children's swings near Strawbridge Lake in Moorestown.
-Dennis
Video on correct Twp. History-
On the "other" history of Maple Shade I explain.


Good "book" online to save and search through-
PDF book Burlington NJ Post Towns by Jack Edge
Do yourself a favor and click FILE, SAVE PAGE AS at your left top corner of your web browser thereby saving the PDF file which will take a minute or two to load as it is 14 MB!
When it is a saved PDF the magnifying glass or SEARCH will let you find instances of things say for example "Maple Shade" quickly.
Great read as it tells of the times back when post offices started there was not even a concept of a telephone. This is how important they were! Also it says Stiles Corner (or Corners) for Maple Shade's earlier name. No history of Maple Shade should be without that mention.
Maple Shade Historical Society
Progress of Maple Shade book
One Hundredth Anniversary book
This is in time for Christmas!

The book contains scans of most of the first year of the Maple Shade Progress newspaper. (100th Anniversary) The book is- 174 pages, 8.5 by 11 inch format, price 20 dollars.

You can look at the book at the following libraries- Maple Shade Library, Moorestown Library, Cinnaminson Library, and Burlington County Library.

Here is a short preview video I made and put on Youtube-
Book video


-Dennis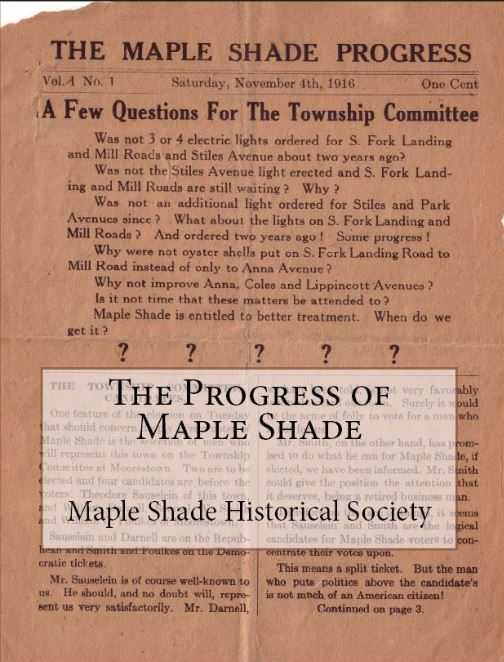 Buying Books (post December 17th sale)-
If you live in Maple Shade and did not get out to the sale and want to buy it direct-
Email me with your phone number or call me and we'll make an arrangement for you to get a copy. The Maple Shade Historical Society makes more money off of direct sales. We have books we ordered that NEED TO SELL! Support the Maple Shade Historical Society and honor people of the past.
-Dennis (member of Maple Shade Historical Society)


DennisLeeWeaver@verizon.net

Or call me- 856-667-8728

Or buy off Amazon.com-
Progress book at Amazon.com


What's the book about?-
It is about today we might complain that the air conditioner isn't cold enough in the summer, but in 1916-1917 you had oyster shells being spread on mud roads! It is about Lenola toying with the idea of its boundaries and becoming a Borough yet going with Moorestown. It is about the Political tension between Moorestown and Maple Shade. It is about World War One and Maple Shade's Home Guard. There are few stores and they are General Stores. Arthur Tippett Christ Free Church is going strong. A bungalow here and there are always being built. Someone is selling a cow, or chickens, or honey. The School only goes to the 4th grade here. Many Canning recipes! etc...
Further Book Insights-
Issue 41- Ed D' Ancona

Mentions him working at an Acme store and being a salesman. He was "taken in" as a boy by Thomas Barlow and raised as a son by him. Childs Store in Maple Shade at Main and Forklanding became an American Store (merge/ by out) and American Stores became Acme later.

If the are meeting "at the school" that is the Maple Shade School No. 1 on Poplar Ave.

If they say meeting at the "Parish House," that is St. John's Episcopal Church on Linwood Ave.

Events at the "Club House" or more so referred to as "the Country Club" was the Joseph B. Stiles brick mansion on Stiles Ave.

The development there was owned by Horace Roberts and he sold the mansion to Thomas Barlow. Horace Roberts was an orchard farmer who came to own 23 farms. Ones in Lenola and north of Main St. mostly Maple Shade were given over to be developed by Barlow & Company.

When they say "Buy your 1917 Scripture Calendars from Arthur Tippett at Main and Coles Avenue" that is because the Chesterford Schoolhouse (later Maple Shade School No. 1) is already converted into a house with Arthur Tippet living there.

Issue 8 "Forty Six years ago" was when the Frechs bought the house and blacksmith shop from its previous owner. (Where Charlie Browns and Ronnie's Deli store are. The daughter married a Mennel so Mennels Dry Goods. Fahrs and Myers were also related.

I believe Joe Booth later became a council member of Maple Shade. I think his name is on the old Municipal Bdg. plaque. (now Fontanas pizza)


-Den


Historical House For Sale-
While we are on the subject of little known historical properties, here is a house for sale! Extremely historical but you wouldn't know it by an outside look!
662 Sunset Avenue Trulia.com
Made out of a Church. Arthur Tippett's Christ Free Church. See the Tippett pages I have at the left links column! Owner said to me "See that's another thing- all the beams for the first floor in the basement are different sizes." That's how Arthur Tippet built things. All lumber donations as he went along. I think some of the house timber came from a 1800s barn. See the Tippett pages. Below is an Arthur Cutler quote. It was said (by him) he knew the history of every house in Maple Shade!

-Dennis

100 Years Later Almost
William Brown first published the "Maple Shade Progress" newspaper, printing it in his home, at 537 Cutler Avenue.
Now here we are on an election time one hundred years later and they are going to tear down that house.
"Maple Shade's first newspaper, "The Maple Shade Progress," was issued for the first time on November 4th, 1916. William Brown, who had a small printing press in his home at what is now 537 Cutler Avenue, was the original owner and publisher. Brown later sold out to Frank Gerkins, Sr., and his son has carried on since his retirement, and is still the publisher of the paper."- Arthur N. Cutler
Courier Post newspaper story
Chalkley Matlack pages-
Sept. 15, 2016- I went to the NJ State Library in Trenton today and got more page copies from Chalkley Matlack's Book of Thornes.
Book of Thornes pages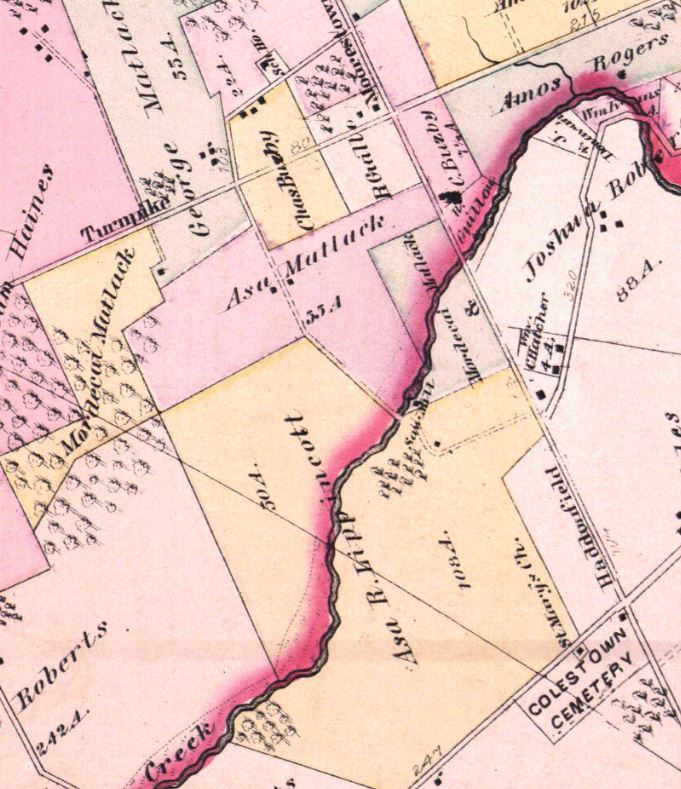 This is a detail from the 1877 G.M. Hopkins map of Chester Twp. showing Fellowship Road (now Rt 73) meeting Kings Highway. The Asa Matlack farm where Chalkley later lived is now Park Crossing Apartments. The Asa R. Lippincott farm was the Thorne farm named Thorndale which was down Farmhouse Lane. You can see the Matlack's saw mill nearby it.
From the Villa Capri fire page concerning the Barlow Mansion which stood at Mill Rd. and Spruce Aves.-
When the depression hit and the bottom fell out of the real estate market, the family lost the mansion. This was in the early '30's. The family moved to a bungalow across the street.
Well a few years back or so the "White House Restaurant" in Lenola tore down the old Barlow Realty office that was at the southwest corner of Lenola Rd. and Camden Ave. This office was operated by Thomas JS Barlow Jr. who also owned the Barlow Mansion and then lived in the bungalow across the street when they lost it during the Depression, so that they could at least see their house from across the street. As of 9-11-2016 I see they razed that house during the last week to build several houses on the lot.
This was the next in line of historically important houses on Mill Road. The Schoolboard razed the Samuel Roberts Italianate house on the corner of what is now the Maude Wilkins school lot. Samuel Roberts left his older house near his mill and moved up his property to live at that house he built in 1861. (src.- Chalkley Matlack)
In The Orchards
The early developments (pre WW2) would leave the farm houses on larger lots and many were One Acre farms lots which would later be divided. Builders built on a side so they could be subdivided at a later time. One would also wonder what farming remained on unsold lots.
At the top of South Lippincott Avenue there were pear trees. The development around the Levi Lippincott farmhouse was even named "The Orchards." Below is a photo of children on a swing in the side yard of a house on Anna Ave. (looking toward S. Lippincott) I think those pear trees actually are on lots on the east side of the street. (The right side where the farmhouse is, I know from several elderly people, was pear trees up to Main Street.)
Oh, by the way a man who had lived on South Lippincott said when he was a boy there were no street signs and the children called South Lippincott Ave. "Pear Street."
Studies of Stiles, The Stiles Families of Maple Shade
I put my "book" up online that I made for a Maple Shade Historical Society meeting I talked at. This is in HTML format and not printer friendly. I have yet to make the small additions and corrections to the PDF version.

Studies of Stiles book

New- Arthur N. Cutler, This Is Your Life-
It has some great early history on him. It does not even touch upon his GREAT work to the Maple Shade Historical Society or Maple Shade Lions Club.
Arthur Cutler Tribute from Realtors
Early History Talks
My Youtube videos on Pre Maple Shade background history

Ad from Phila. Evening Ledger Oct. 31, 1914
There are different starting dates to Barlow & Co. but I would actually think that 1912 was it. The first office was on the corner of Holly Ave. and Main St. near their house. (I thought it was at their house until I read a Arthur Cutler paper saying it was a small office built on the corner.)
The Cutler agency took over the Shuster tract and Maple Shade Land & Improvement, as well as the George Martin tracts of One Acre Farms. One Acre Farm sales were a common thing of the time. They really catered to the "regular guy out there" and not to wealthy people. This was also a time period of Temple Baptist Church Pastor Russell Conwell (My Grandpop's pastor!) who spoke a "prosperty Christianity" with a book and sermon entitled "Acres of Diamonds."
I'll add this to the Barlow Ads page later. -den
For Sale Again- 919 East Main St., Maple Shade

John Muffet & Son Brick and Tileyard house
Originally a double house, built about 1863. Read the Brickyards page for more info.
This house is highly historical and should be preserved and revered in that manner!
21 Bars? (Well liquor licenses)
There was always that elusive number 21. You would see a few Maple Shade Progress headlines saying 21 licenses this year, and when you read down the list there was always only 20. Well here is a real candidate for number 21 (never opened) Again one would have to double check this out-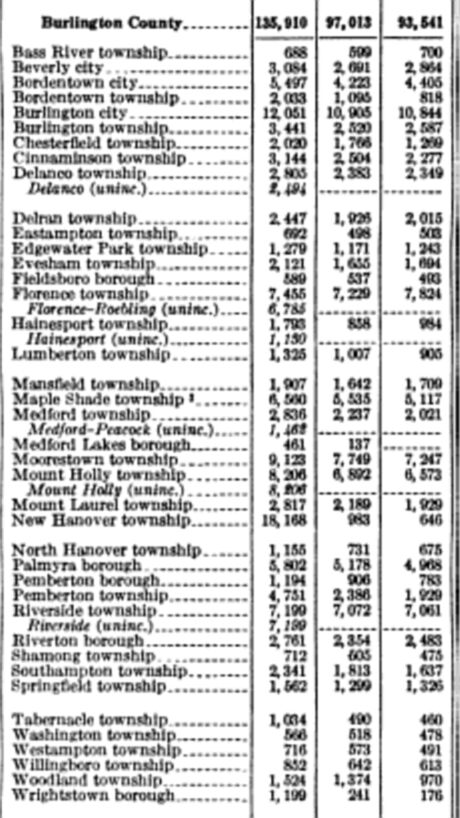 Burlington County Twps. Population for 1950, 1940, and 1930




Compare Maple Shade esp. to 1930 and see how early we turned mostly suburban! Be sure to think of the land area sizes of each of the Twps. as well!





den's email addy is DennisLeeWeaver@Verizon.net