Welcome!
I hope you enjoy learning some of Maple Shade's history.
Collins Lane House Razed April 3rd-
I went back later on to see what the animal(s) they found were while tearing it down. It turned out to be 3 baby squirrels which seemed now dead. I should have taken my camera because on top of remaining rubble lay copies of the book "Maple Shade A Story of 300 Years." Almost poetic! I grabbed the two on top of the ground copies as it was drizzling out. Maybe I should have left them as a reminder for who else would come. But then again they might soon be back to fill the hole. There were a few more copies in the cellar steps. I guess the MS Historical left a box inside. I know we lost our cabinets we bought from Mike's Hardware store when it went out.
SAD DAY!!!!!!!!!!!!!!!!!!!!!!!!!!!!!!!!!!!!!!!!!!!!!!!!!!!!!!!!!!!!
I think after the demo crew cleaned up the area one of the workers who must've found the "Maple Shade A Story of 300 Years" books put the books on the edge where a wall would have been and one blew several feet away and several others fell down the cellar stairs. I saw the two copies on top which were a stark response to what had happened (Like in the Bible the stones will cry out!) so it was drizzling rain and they appeared still half good so I grabbed them up.
-Dennis
Video on correct Twp. History-
My Youtube was actually hacked and someone put the Twp website URL with "for more good history" down in my text description. (fixed on April 17) I got like the most comprehensive Twp History website in the United States and the TWP ignored it over the years it would seem. I could go on and on and on!
Well maybe to give it the benefit of the doubt, perhaps I entered the wrong URL in the text.
-Den
Brief History Project-
I try to write briefs. I guess I am breaking it down as well and this is part one of several parts.-
Establishment of Maple Shade Township pdf
Effort to save the Collins Lane House
Courier Post newspaper story
Burlington County Times newspaper story
Maple Shade Historical Society at Sidewalk Sale


I was at the table selling the Progress books.


1859 Map shows Maple Shade's first brickyard
1859 Map at Library of Congress
You can download this 1859 Map of Burlington County in high formats like TIFF, large jpg. Maple Shade had a brickyard in 1859. The symbol is hard to understand but easy when you compare it to the brickyard that was at the "Mini Pond" as we used to call it as kids - the little park with children's swings near Strawbridge Lake in Moorestown.
-Dennis
Good "book" online to save and search through-
PDF book Burlington NJ Post Towns by Jack Edge
Do yourself a favor and click FILE, SAVE PAGE AS at your left top corner of your web browser thereby saving the PDF file which will take a minute or two to load as it is 14 MB!
When it is a saved PDF the magnifying glass or SEARCH will let you find instances of things say for example "Maple Shade" quickly.
Great read as it tells of the times back when post offices started there was not even a concept of a telephone. This is how important they were! Also it says Stiles Corner (or Corners) for Maple Shade's earlier name. No history of Maple Shade should be without that mention.
Maple Shade Historical Society
Progress of Maple Shade book
One Hundredth Anniversary book
This is in time for Christmas!

The book contains scans of most of the first year of the Maple Shade Progress newspaper. (100th Anniversary) The book is- 174 pages, 8.5 by 11 inch format, price 20 dollars.

You can look at the book at the following libraries- Maple Shade Library, Moorestown Library, Cinnaminson Library, and Burlington County Library.

Here is a short preview video I made and put on Youtube-
Book video


-Dennis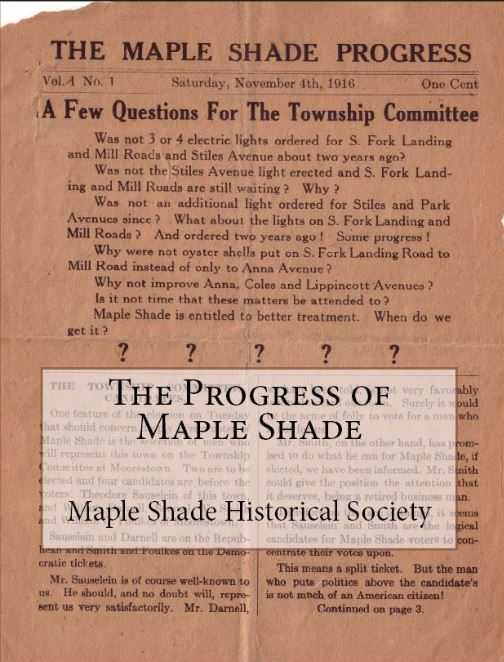 Buying Books (post December 17th sale)-
If you live in Maple Shade and did not get out to the sale and want to buy it direct-
Email me with your phone number or call me and we'll make an arrangement for you to get a copy. The Maple Shade Historical Society makes more money off of direct sales. We have books we ordered that NEED TO SELL! Support the Maple Shade Historical Society and honor people of the past.
-Dennis (member of Maple Shade Historical Society)


dennisleeweaver@verizon.net

Or buy off Amazon.com-
Progress book at Amazon.com


100 Years Later Almost
"Maple Shade's first newspaper, "The Maple Shade Progress," was issued for the first time on November 4th, 1916. William Brown, who had a small printing press in his home at what is now 537 Cutler Avenue, was the original owner and publisher. Brown later sold out to Frank Gerkins, Sr., and his son has carried on since his retirement, and is still the publisher of the paper."- Arthur N. Cutler
Courier Post newspaper story
Chalkley Matlack pages-
Sept. 15, 2016- I went to the NJ State Library in Trenton today and got more page copies from Chalkley Matlack's Book of Thornes.
Book of Thornes pages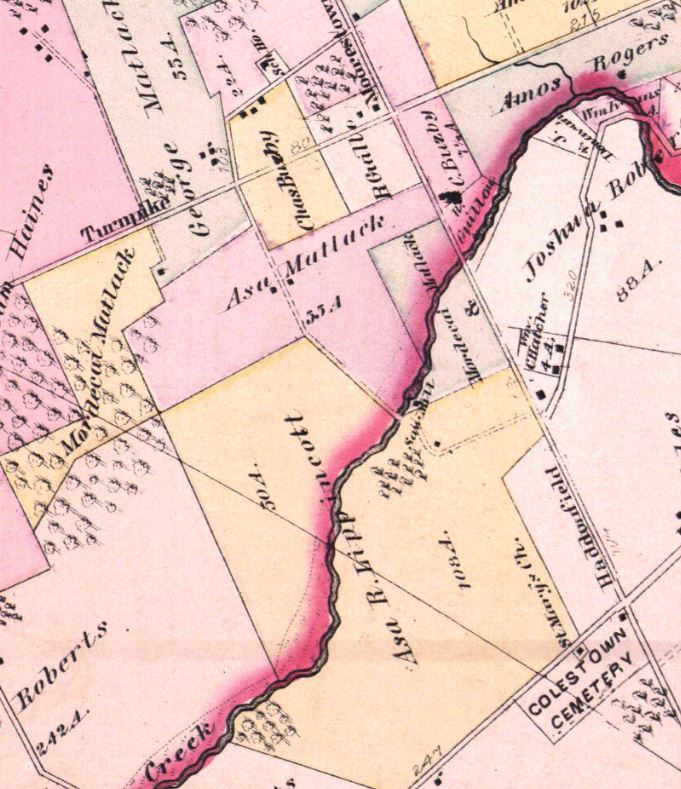 This is a detail from the 1877 G.M. Hopkins map of Chester Twp. showing Fellowship Road (now Rt 73) meeting Kings Highway. The Asa Matlack farm where Chalkley later lived is now Park Crossing Apartments. The Asa R. Lippincott farm was the Thorne farm named Thorndale which was down Farmhouse Lane. You can see the Matlack's saw mill nearby it.
In The Orchards
The early developments (pre WW2) would leave the farm houses on larger lots and many were One Acre farms lots which would later be divided. Builders built on a side so they could be subdivided at a later time. One would also wonder what farming remained on unsold lots.
At the top of South Lippincott Avenue there were pear trees. The development around the Levi Lippincott farmhouse was even named "The Orchards." Below is a photo of children on a swing in the side yard of a house on Anna Ave. (looking toward S. Lippincott) I think those pear trees actually are on lots on the east side of the street. (The right side where the farmhouse is, I know from several elderly people, was pear trees up to Main Street.)
Oh, by the way a man who had lived on South Lippincott said when he was a boy there were no street signs and the children called South Lippincott Ave. "Pear Street."

Ad from Phila. Evening Ledger Oct. 31, 1914
There are different starting dates to Barlow & Co. but I would actually think that 1912 was it. The first office was on the corner of Holly Ave. and Main St. near their house. (I thought it was at their house until I read a Arthur Cutler paper saying it was a small office built on the corner.)
The Cutler agency took over the Shuster tract and Maple Shade Land & Improvement, as well as the George Martin tracts of One Acre Farms. One Acre Farm sales were a common thing of the time. They really catered to the "regular guy out there" and not to wealthy people. This was also a time period of Temple Baptist Church Pastor Russell Conwell (My Grandpop's pastor!) who spoke a "prosperty Christianity" with a book and sermon entitled "Acres of Diamonds."
I'll add this to the Barlow Ads page later. -den
For Sale Again- 919 East Main St., Maple Shade

John Muffet & Son Brick and Tileyard house
Originally a double house, built about 1863. Read the Brickyards page for more info.
This house is highly historical and should be preserved and revered in that manner!
21 Bars? (Well liquor licenses)
There was always that elusive number 21. You would see a few Maple Shade Progress headlines saying 21 licenses this year, and when you read down the list there was always only 20. Well here is a real candidate for number 21 (never opened) Again one would have to double check this out-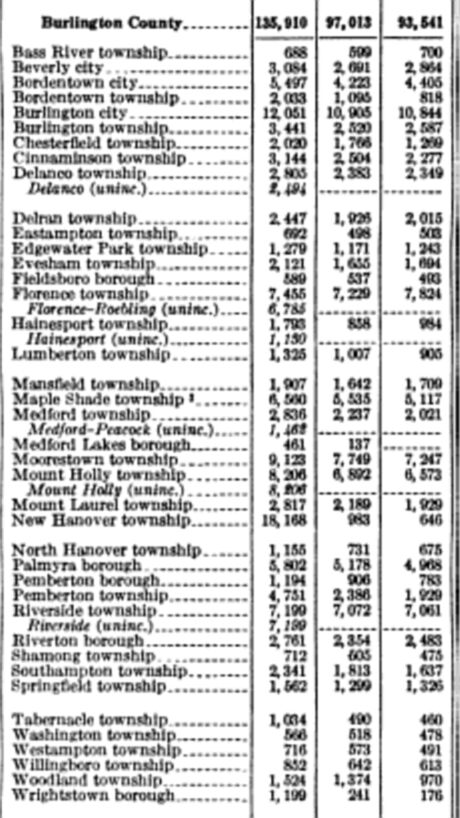 Burlington County Twps. Population for 1950, 1940, and 1930




Compare Maple Shade esp. to 1930 and see how early we turned mostly suburban! Be sure to think of the land area sizes of each of the Twps. as well!





den's email addy is dennisleeweaver@verizon.net