Welcome!
I hope you enjoy learning some of Maple Shade's history.
New Page-
New page about the corner where the Custard Stand is. The house next door was never the toll gate house. The Custard Stand lot is where a toll house was.
Custard Stand lot
Arbor Day-
In the 1800s NJ School Reports only one holiday is mentioned- Arbor Day. You did not have off but went to school and sang songs and heard talks and then planted a tree somewhere on the school grounds. I think they knew back then something we do not realize as much now. How important trees are!
The following is from the (Philadelphia) Evening Public Ledger., April 10, 1918, Postscript Edition, Page 11-
WETS MAKING FIGHT AT MAPLE SHADE, N.J.
Local Optionists Discover Quiet Efforts to Defeat Dry Voters Next Week
Moorestown, N.J., April 10,
With the election less than a week off, when the residents of Chester township will vote on local option, the dry advocates have awakened to the fact that the saloon element that was supposed to have abandoned the fight has been hard at work in Maple Shade. Residents of that town are being lined up in hope that the local option advocates in Moorestown, feeling secure in their strength, would be caught napping and be outvoted by the residents of Maple Shade.
The anti- saloon men and women of Moorestown who have been idle are now making big effort to arouse the town to the dangers of the situation. It is generally believed that the local optionists will win. If Moorestown was a borough it would be found that nine tenths of the voters are against the saloon, but the town is a part of Chester township. The election will be on next Tuesday.
Here is the link to the newspaper (hard to read because of light print)-
newspaper at Chronicling America
The outcome of that election is in the book "The Progress of Maple Shade."
NJ Tourism!
Years ago when Joe Laufer, the official Burlington County historian, was alive, he had meet ups with the Historical Societies and local historians and history lovers. He was very much involved in the restoration of Smithville Mansion as that's natural as he lived in Smithville. He got started in history after moving to New Jersey and he noticed the area had many Quaker Meeting Houses so he photographed them. A emphasis of his was "NJ historic tourism."

Have you ever gone on vacation to a family member's home out of this area and had time you wanted to get the most out of and so you said, "What is there to see around here?" You then went to some local historical place and you LEARNED THINGS and enjoyed the visit. Perhaps the surprising thing is many locals who lived there for years perhaps never bothered to go to the place you visited.

To see 1700s houses there is the Burlington County Historical Society, the Griffith Morgan and Burrough Dover houses in Pennsauken, Moorestown Historical Society, Camden County Historical Society, and others.

We have variety- the Air Victory Museum in Lumberton, Kirby's Mill in Medford, Burlington County Farm Fair, Burlington County Prison built in 1811 in Mt. Holly, and don't forget Maple Shade Historical Society's Chesterford Schoolhouse. I know I am leaving a lot out. I would think that about every town has somewhere to visit.

-Dennis Weaver


NJ Schools in the 1800s-
I took screen captures of interesting items from the New Jersey School Reports-
Snippets from 1800's School Reports
Progress of Maple Shade books Note-
If you are interested in buying a copy or want to know more about the book then scroll to this webpage's bottom. In the making of the book of the scans of the 1916 and 1917 Maple Shade Progress newspapers I have one regret in that in the indroduction I did not state that the scans (or images) in the 8.5 by 11 inch book are actual size. That is exactly how big the original newspapers were! The first ones measured like 7.5 by 10 or something which let it work out well with the needed book margins. The size you see in the book is the size the papers were.
Edwin F. D'Ancona-


Photo from the Maple Shade Progress newspaper, Nov. 4, 1937
He and Catherine Sixberry won Township committee positions.
Unless you're fairly old, well let's just say it- real old, you probably never heard of him before. In the history of Maple Shade he was a very important powerful etc.... person. I haven't researched him but have run across enough things to at least mention them. (and research him in the future!)
Arthur Cutler said that Barlow & Company was started by Thomas Barlow Sr. and his sons Thomas and Frederick and adopted son Edwin D'Ancona who was a salesman. A earlier census for the Barlow family listed him as living with them at Main Street and Holly Ave. and as having been "taken in." Arthur Cutler also said that Edwin D'Ancona and his wife opened The Sweet Shoppe at about 113 E. Main Street. It was a favorite spot of children and adults alike.
A 1916 or 1917 Progress has Edwin leaving the Childs' Store in Maple Shade to work for the new Acme in Moorestown and states something like "He ought to know sales." I saw later Progress articles where he was the Mayor of Maple Shade and some where he worked for Barlow & Company. He seemed to be in and out of working at Barlow & Co. Anyhow he would probably best be remembered for being involved in politics.
Chester Twp. Old School Numbers-
From the "1900 Hauck's Excelsior Directory"-

Township Schools-

No. 1- Maple Shade. Located on Camden Pike, in Maple Shade. Anna M. Grady, teacher. Pupils enrolled, 25.
No. 2- Chester Brick.
No. 3- Moorestown.
No. 4.- Stanwick.
No. 5- Lenola.
No. 6- Poplar Grove.
No. 7- West Moorestown (colored school).
No. 8- Moorestown High School.
Now if we were to go up to the year 1920, Maple Shade's one room school, named "Maple Shade School No. 1" was replaced in 1909 with the Poplar Avenue school as "Maple Shade School No. 1." There was also a "Maple Shade School No. 2" on Chestnut Avenue. (Steinhauer School)
I don't know everything involved but I looked in the book "Moorestown and her Neighbors" by George DeCou and it states that in 1917 the Chester Brick Schoolhouse was sold to Joseph Matlack where it stayed on the farm and was later used in the summers to house berry pickers.
You see after Moorestown separated they were stuck with schools like "Schools No 5, 6, 7" etc... and we had Schools 1 and 2, so we just continued on with 3 on Mill Road, and 4 on N. Forklanding Rd.
The Chesterford School was at the opposite end of the spectrum before the "Township School Act" of 1894 changed the district numbers from county to townships. It was then "School No. 27."
Old Maps to Download-
1847 map segment at den's OneDrive cloud.
I took this map which you only get a small scroll view at-
1847 map with Maple Shade area
And I zoomed in and snippet screen captured segments and then pasted them together in Microsoft Paint. It has the "Maple Shade" area.
1849 Smith and Wistar map of Burlington County at Library of Congress
New entry added-
1859 Map of Burlington County at Library of Congress
Shows the brickyard in "Maple Shade" in 1859. You can compare the BY with a nearby brickyard which was at the mini pond at Strawbridge Lake in Moorestown.
1860 Lake and Beers map with date changed to 1869
The date has been altered yet the map is not updated. For instance there is no Camden and Burlington Railroad tracks and that was put in in 1867. This opens up full blast high resolution so even with a very high connection speed the image will take time to load. If you want to see a copy of this map in person (dated 1860) the Burlington County Library has/ had one hanging up.
1877 GM Hopkins Atlas map of Part of Cinnaminson and Chester Twp
At Villanova University to view/ download
Road to Taylor's Fish House (now New Albany Road)-
The "Road to Taylor's Fish House" caught my eye on the above 1847 map. That road is obviously New Albany Road which led to the hamlet of New Albany. The Burlington Road is now Rt. 130 where New Albany was. I know there is a Taylor's Lane that goes out to Rt. 130 on the other side of the highway from New Albany Road.
I checked on my J.D. Scotts 1876 Illustrated Atlas of Burlington County for a Taylor's Fish House at New Albany. (I bought it from the Pemberton Historic Trust years ago.) On the Cinnaminson map I didn't see it. There is old houses left along Rt. 130 and one just may be that fish house.
New Albany was in 1876 what I would call a village! It had a Town Hall, a post office, a public school, a store, and a ME church with a cemetery. Anyhow along that Burlington Road was Westfield, New Albany, Fairview, and Bridgeboro, and Bridgeboro had a post office as well.
Going further on a road (now Taylor's Lane) towards the Delaware River to what is beween Riverton and Riverside at the railroad tracks is Taylor's Lane Station. Going onward past that, several Taylor families lived along the Delaware River which might be where Taylor's Fish House was. ???
Guess I got distracted on that one! Ha ha!
Here is a map that you can't download-
1853 map with Maple Shade area
Iam thinking because in one place on there I found a "Fish House" near the water's edge and because near the river is the residence of a Taylor that it was near the Delaware River. (on Taylor's Lane) I was thinking a fish house was like a restauarant that served seafood. (I have a 20th century mind) My next thought was that it might have been a market place to buy freshly caught fish. Well that is probably wrong although maybe you could. This is what I came up with-
Fish Houses-
In obituaries in the NJ Mirror searching under "Fish House" a few people died by train accidents near fish houses. I then combined "railroad" into a Google book search and came up with this definition-
Along the banks of creeks or rivers, fish houses were built where the railroad tracks also ran. The railroad allowed fish to be shipped to nearby cities or towns.
A merchant would own the fish house. (his business)
It was Camden
When Charles F. Shuster filed the "Shuster Tract" subdivision plan of the once Benjamin J. Stiles farm in 1887 he advertised-
Advantages of living at "Maple Shade"
Fourteen Trains each way daily.
High and Rolling Ground.
No Malaria.
Pure water at 16 feet.
Economy in Living.
Pleasant Walks.
Fine Drives.
The Properties are absolutely sure of increase in value. Sold for Cash or on Installments. No rent Days.
Landlords unknown.
Well before the Cutler Agency took over this in about 1906 you could practically count the houses built there on one hand!
The train wasn't enough to suburbanize Maple Shade. Or bring industry as some have eluded. A brickyard was already going since the mid 1800s.
If we jump way ahead of ourselves, you might say the Benjamin Franklin Bridge (previously the Delaware River Bridge) which opened in 1926 (You can always remember because it was the Sesquicentennial.) was the most powerful factor. Maybe in the Post WW2 housing boom but not earlier.
You see since the 1700s when Cooper's Ferry crossed farmers over the Delaware River to Market Street in Philadelphia something else was in the future. It was getting there when the Moorestown and Camden Turnpike Company bought the 1794 stage road to market but by post WW1 and into the twenties it was a fully emerged force-
CAMDEN, NJ
Here is a segment from a 1920 Maple Shade census showing presumably as employers- the New York Shipyard, Victor Talking Machine, and the Campbell Soup Company.
New Page-
New Page-
It's made from Chalkley and Asa Matlack Stackhouse writings on the Stiles family

Chalkley Matlack talks Stiles
All the quotes are from the "Matlack Family PDF" in this folder-
Historical Books in PDF format
I copy pasted the text, but then like a third to half comes out gobbily gook and you have to fix it, but it still saved a lot of time from just hand copying it all. I organized it with Stiles names. As of February 5-7, if you print out things I would wait because I am still correcting uncapitalized words, etc...
Maple Shade in the 30s & 40s movie
This collection of old movies of Maple Shade, NJ aired on the Maple Shade Cable TV network. This has been copied from a VHS tape and is not the best quality, but I am not sure how good it got. The beginning and end photos of the Roxy have been added.
Do yourself a favor and open the video up in Youtube- Maple Shade, NJ in the 30s and the 40s That way in the Description you can see the contents and time stamp links.
Martin Luther King marker at East Main St. and Route 73
Well I hope people appreciate me going out in 12- 13 degree temperature this morning Jan. 21 (MLK Day) to take photos of this marker. Here are a few more photos taken- MLK Day photos
Not to defend Ernest Nichols, who owned Mary's Cafe, but I think this would have been common around here and Martin Luther King being from somewhere else didn't expect it in a northern state like New Jersey.
There is papers concerning this in King's book- from Google books

From the above book in the chronology segment
Willingboro got notoriety by their anti black happenings and the Twp. now being predominantly black. Maple Shade developers spelled out their "policy" earlier on. And Maple Shade was basically almost an all white township until Kings Highway Towers apartments and Spring Hill Apartments let blacks in near the early 70s.


Zoning type of restriction from a Maple Heights section deed of 1916
When the Ku Klux Klan made a come back in the 1920s and 30s. Maple Shade's chapter had a parade and later a cross burning in 1926. The site marked a little down the hill from Pine Ave (cross burning was on hill) is now the "Southern Cross Apartments." Please note that while some people liked the KKK, most people grew very sick of it and it really lost a vote of popularity to say. There was even a meeting where Maple Shaders were going to throw stones at the KKK members!
I talked to a lady who grew up in Maple Shade working first at her Aunt's newspaper store. She said ALL, repeat ALL of the realtors came in their store and said, "If any black people ever come in here asking if there are homes available in Maple Shade, tell them that there are none."
Another racial discrimination is how after World War Two, the government didn't want to make waves so the newly forming suburbs were whites only as blacks coudn't get FHA loans and the whites for the most part didn't want them living near them. (For one reason or another)
It is interesting that Pennsauken started to go the way of blacks moving in and the whites leaving until a movement stopped it. They had meetings and asked, "Why are you moving?" The result is a very ethnically diverse township having whites, blacks, Asians, etc... Here is one article on it-
Intentional Integration Pennsauken NJ
Anyhow, Happy Martin Luther King Day and a thank you to all those responsible for the marker put in this past year at East Main Street and Route 73, Maple Shade, NJ. Special thanks to the Maple Shade Township Council who placed the marker.


Mary's Cafe was lastly the Moorestown Pub.


I don't have a date on this ad but it looks 1930s
and pretty much tells a story in itself.
Maple Shade 1923 Sanborn Insurance Co. Maps-
MS 1923 Sanborn maps
Go all the way down on the left sidebar and you can download any of the map sheet images.


Detail from 1923 Sanborn map sheet 2
The Barlow Building is under construction at the time.
From the Camden Post Telegram newspaper, May 3, 1923-
Work has begun on an addition to the office of the Barlow & Co., Inc., local real estate developers. The addition will be two stories, 100 X 80. The lower part will be utilized in additional office room while the second floor will be fitted as a modern hall.
They did not use this caption in the Arcadia Book and I really busted my butt to get that information looking many hours through microfilm of old newspapers!
If you have the Arcadia photos book then see my "Corrections" page. They didn't use the "corrections CD" and also rewrote many of my captions twisted around wrong with added false information!
Anyhow I put that Main Street image up to show you a taste of what the Sanborn maps were.
Old Street Signs-
There are about a dozen left around town, now most of painted yellow. This was one of the things I most remember when my family moved to Maple Shade in 1973. Here is an article about when the project was started- Old Street Signs Progress newspaper article
The Lions Club was involved in the township's street signs. Improvements like this were done not just in Maple Shade but in all towns. Christmas Main Street decorations to youth ballpark lighting etc... was done by clubs like the Lions Club, Jaycees, etc... Today everything seems to be our tax dollars and getting "grant money" do do something.
Perhaps people may have enjoyed things more the old way because you always "get more out of something the more you put into it." In the beginnings of the post WW2 housing developments there were civic groups who got together about their "neighborhoods."
Tree Named Streets-
Can you name the first ten tree named streets in Maple Shade? They would be on the "Shuster Tract," Zane (or Levi French) tract, and Maple Heights. Answer is at the bottom of the page.
Street Names for "The Orchards"-
I actually have a copy of this whole plan map which is about 2 feet by 3 feet in size. I paid for it to be copied from the original which at the time was about 100 years old. It is at the Burlington County Clerk's Office.
In 1912 Camden attorney John F. Harned bought the Levi Lippincott farm then owned by Henry T. and Emma E. Bleam. In 1914 the Plan for "The Orchards" was submitted by John Harned with the houses to be built on one acre farm lots by Barlow and Co.
John F. Harned specialized as a Real Estate Lawyer. This looks like the case of another of Thomas Barlow's partners in business, Attorney George B. Evans of Moorestown, NJ
With the name "The Orchards" given, one can imagine what Henry T. Bleam had there on his farm- orchard trees!
The farmhouse was kept on a larger lot and called "The Homestead" on the plan. This area, later on, has streets like Nagle Ave., but remained as Pear trees until, off hand, the 1940s probably. It is the Plan of Lots of Ignac Allekna, Map 744, Filed in 1924.
Back to "The Orchards" and the streets names-
Coming from Main Street, down South Lippincott Avenue is-
Helen Avenue named for John F. Harned's wife Helen.
Anna Avenue named for Thomas Barlow' Sr.'s wife Annie.
Gradwell Avenue named for Attorney James S. Gradwell who practiced law with Attorney John F. Harned at 424 Market Street, Camden, NJ.
Thomas Avenue named for son Thomas Barlow Jr, or Thomas Barlow Sr. and Jr.
Frederick Avenue named for son Frederick Barlow.
There was no Margaret Avenue. That street was added in later on.
I am working on the other street names which have been changed anyhow. I kinda know one of them but have to re-verify it. In the case of Stinson Ave. It is no longer there. The High School is. Well it probably was only a "paper road." I wonder, seeing how far the bungalows go down Frederick Ave., how much of that road was a "paper road" until when.
John Harned also owned the "Maple Heights Farms" subdivision on Mill Road where the Barlow Mansion was.
Here is a few internet research snippets-
Harned and Gradwell worked at 424 Market St. in Camden, James Gradwell started there as a "law student" so maybe it was like an apprenticeship under John Harned. It was not a large office building and also was the address of a Cold Storage and a lumber corporation. (They were involved with) Here is a Sanborn map detail from 1906-

James S. Gradwell-

According to the 1920 Census of Camden County, NJ, James S. Gradwell was living with his parents John and Rosalie in Oaklyn, NJ. He was 31 years of age and single and for his profession he was listed as a lawyer.
According to the 1930 Census of Camden County, NJ, James S. Gradwell was living with his parents John and Rosalie in Oaklyn, NJ. He was 42 years of age and single and for his profession he was listed as a Lawyer working in a Law Office.

-Researched on FamilySearch.org
He was nobody of acquired renown as John F. Harned came to be. At the time Gradwell Avenue was named after him he was a young lawyer, in his mid twenties working with or for John F. Harned.
James S. Gradwell was on the Board of Public Utility Commissioners in the 1920s for Oaklyn Twp. (Thomas Barlow for Maple Shade)
My Aunt is a member in several online things like newspapers.com and Find a Grave, etc.. so I asked her to see what she could find. She found several items notably this information at the cemetery site and this detailed obituary. If you want more items then email me.-
Annetta Drummer, according to the 1930 census, was a stenographer at a Law Office.
I hate to say it but she cannot at this point be ruled out as to who Anna Avenue is named for.
When the plan of "The Orchards" was filed in 1914, she would have been about 22 years old and might have been working for James S. Gradwell or John F. Harned then. I cannot find her in an earlier census than 1930 so hard to tell.
Anna is most likely named for Annie Theresa Barlow as Annetta Drummer might not have lived around here in 1914, but she could have been missed over in the census. At the end of her life Annetta (single) lived in Virginia.


See what I mean. From a 1926 Camden newspaper
In the above James S. Gradwell obituary it states that at that time "he maintained offices at 728 Cooper Street, Camden, NJ."
That was John F. Harned's house.
In the history of Camden, John Harned was one of its most prominent lawyers. He had a write up in about 4 Biographies books. (Much was recopied from the others.) Here is webpage from Phil Cohen's Camden, NJ website.-
John F. Harned
Street Renaming-
While we are on the subject of the old street signs, the Plan of The Orchards development street names and who the streets were named for, here is another topic- At sometime between 1929 and 1944 there was a renaming of many Maple Shade streets to lesson the number of names to make it easier to navigate your way around. For instance Sauselein Ave. was changed to North Pine Ave. East Ave. in the Shuster Tract going out to Poplar Ave. was renamed Gradwell Ave. There was a Harned Ave and Barlow Ave near Mill Road but now they are renamed.
I have no bad feelings about any of the renames except one because rather than a person it referred to the actual development itself! Nathan Perkins farm (house on North Coles Ave.) became the "Evergreen Terrace" subdivision. If you are familiar with Perkins Memorial in Moorestown and knew some history, the family had a nursery and grew many evergreen trees on the property. The same for a son Nathan who had evergreen trees around his house but now they are gone and Evergreen Ave. was renamed Clinton Ave. and only Terrace Ave. remains like to tell half the story!


Detail from a 1944 Sanborn Insurance map
Note the additons on the Chesterford School when it was used as a house
Another bad way a street can be renamed is when the original name is very historic. Yes it was a good idea how they placed that second marker on North Pine ave. with Sauselein because there was the Sauselein brickyard there, but I can really think of a greater instance which could definately be deemed a wrong when the Township of Willingboro recently renamed a section of the old Salem Road (King's Highway) as Martin Luther King Road or whatever and Moorestown let the east section chop up and rename the same.
Here is a place Thomas Barlow is honored. In Cherry Hill, in what was the Mechantville Terrace subdivision.


Inglesby Funeral Home used to be Thomas Barlow Sr.'s house and
his real estate office was first at the corner of Main St. and Holly Ave.
Main Maple Shade Roads-
I am having such a good time on "roads talk" that one thing we should discuss is Maple Shade's main roads.
Main Street- In 1794 it was part of the straight road laid out between the village of Moorestown and Cooper's Ferry crossing the Delaware River to Market Street in Philadelphia. This was the "Market Road" or "Market Ferry Road" which replaced portions of the "Old Ferry Road" or "Market Road" which branched off King's Highway, the point of origin being renamed Schoolhouse Lane where the Chester Brick one room schoolhouse once stood.
In 1850 the road became the "Moorestown and Camden Turnpike" owned and maintained by local share holders. It had toll gates with tollgate houses for their workers and milestone markers (still there) to show how many miles it was either way from Camden (incorporated in 1823) to the village of Moorestown (originally Moore's Town). This was discontinued and became a free road in November of 1907. It is now a County Road #537.
It 1917 it was renamed from the "Moorestown Road" or the "Moorestown Pike" to Main Street as Maple Shaders wanted changes for the Maple Shade section of Chester Township.
Forklanding Road- This road is not named this because it goes to where the North and South branches of the Pennsauken Creek meet. It is named for a landing that was at that location. A landing is a wharf or dock where items were "landed" from a boat. In the early days roads to landings were naturally some of the first roads put in. This road at first was not named Fork Landing Road (two words) but Poplar Landing Road for an earlier landing which was at the creek before the road bends towards Rt 73. At one time both landings were in use. Fork Landing had the Heulings lumber and planing mill in the late 1800s. John Winter a wheelwright who owned the house at Main St. and Maple Ave, was not to be found and owed them money for wood.
Coles Avenue- Laid out in 1817, just prior to the building of Perry Frisby's house on it across from the High School baseball field. He was a black man and there was Quaker forces working in this area! Anyhow it was not named Coles Ave. then. What do you think a early road would be? It was Cooper Landing Rd.
Fellowship Road- It went to the village of Fellowship (mostly in Mount Laurel). Where Route 73 meets Fellowship Road in Mount Laurel is where the village once was.
Mill Road- Almost every town has a Mill road or Mill Street and you can date the mill to if the road crossed a creek or not. Moorestown's was where Ellis Heating is and was steam powered. Our mill is from Enoch and Samuel Roberts. Samuel later moved to a house he had built in 1861 where Mill Road School is now near. They tore it down for a parking lot. Robert's Mills Apartments changed their name to Robert's Mill, but we are talking a different Roberts who lived in Fellowship or perhaps Colestown area and there were two mills as can be seen on an old map.
There are very few "roads" or "streets" in the Township of Maple Shade. We have mostly "avenues" which means "a tree lined residential street."
Interesting Streets-
Germantown Avenue- Horace Roberts' 1914 "Maple Croft" subdivision on North Forklanding Rd. has a street he named "Germantown Avenue." With the Frech, Klinger, Mennel, Fahr, Shuster, and Zane families occupying the business district of Maple Shade and all being of German descent (plus hearing people talking in German) this was appropriate!
Collins Lane- Nevermind this had a house from like the 3rd generation of colonial pioneers- Joseph Rudderow when England owned our country. Nevermind that it was where a Stiles family lived when the railroad came through and decided to have a stion named "Stiles Station" after the Stiles family farms in the area. There was a hamlet of "Stiles Corners" in the 1860s. No, this is because John S. Collins and then his son Lester bought the farm of 129 acres, divided the house into two tenant farmer homes and grew apples.
Maple Heights Avenue- Do you know who lives on that street? Nobody. There are no houses on it. The Maple Heights Land Company bought the Mason Farm and Thomas Barlow Sr. was their president and in 1912 formed Barlow & Company with his sons. The subdivision is also named "Maple Heights." It has the most Barlow Bungalows of any Barlow & Co. development.
Brubaker Avenue- Another street which had, repeat had no houses on it is Brubaker Ave. A member of the Brubaker family requested the township to rename it that for their family which used to live where all that land is.
Rudderow Avenue- This street doesn't sit well with me because the Rudderow family land was on the other side of town (and in what is now Cinnaminson) between the forks of the two branches of the Pennsauken Creek. A descendant Alfred Rudderow in the early 1900s owned the Samuel Roberts' house on Mill Road with the land on each side of Mill Road. George Martin bought and made it into two subdivisons. He named a street Rudderow Avenue after Alfred Rudderow. By the style and age of the homes built on the tract between Mill Road and Center Ave., you can see not much development happened on it until after WW2. Maybe it was being farmed in the mean time.
Martin Avenue- George Martin named a street after himself. Also there is a Cutler Avenue. The Cutler real estate agency handled the Maple Shade Land and Improvement tract, the Shuster Tract, and the two George Martin tracts.
Rose Avenue- Named for Rosa Rynning. On one side of the street near Coles Ave. is land of the Thorne family from the 1700s and the other the Burrough family from the 1700s. (Later Coles, then Tiver, then Alden Park) I believe offhand that this marks the spot where the "Old Ferry Road" crossed town and went on to cross the Pennsauken Creek near Samuel Burrough's Grist Mill. The Rynning subdivision (on the left side of Rose Ave.) was owned by Joseph E. Rynning and Rosa Rynning his wife. A house of white stone was later built at Main St. and Walnut Ave. for Rosa Rynning. I don't know if that was for her or a daughter.


Old and new street signs shown side by side
Maple Shade Historical Society November Open House-
This is a picture of me, Dennis Weaver, at the November 24, 2018 Maple Shade Historical Society Open House
at the Chesterford Schoolhouse on West Main Street, Maple Shade.
Real Good Historical Books on PDF-
Historical Books in PDF format
This is like the best of the best. Download the whole folder! (Go up a directory to Public, then click on the folder and choose to download it.)
The one called MatlackFamily has writings from Chalkley Matlack and also covers some of the Roberts family and Stiles families, etc...
-Dennis
William Matlack and Cinnaminson-
William Matlack and Cinnaminson
In 1880, William Matlack was the "star of the story." And if you think about it 1677- 1982 was the end probably of his 4 years of indentured service so he was then getting his land. John Roberts on the other hand was living on his land in what is now Willingboro and moved with William Matlack and Timothy Hancock. Timothy Hancock is sort of the "Star" as on his land the Society of Friends nearby met for meeting before the Kings Highway started being built and the one in Moorestown replaced it in 1700.
The Roberts Monument was erected later (1890s) and in recent times some made "John Roberts" into the "Star" or first pioneer or whatever which isn't correct. That monument was never meant to say that. It was to commemorate him.
The Roberts house, at the highest point on South Pine Ave., went through a daughter who married a Lippincott. One son, Thomas, became a brickmaker. A daughter married Joseph Walton a furniture maker. Another son was plowing the field on the land then undivided and found the cave dug out of John and Sarah Roberts.
Later on when he was old he said they should mark the spot, which they didn't exactly as the land was now all subdivided and not owned by their family anymore. Plus along the Turnpike was more suitable so they bought an 1/8 acre lot across from the old John Moffett & Son brickyard house and dedicated the monument on a damp rainy day, the anniversary of the surveys for John Roberts, William Matlack, and Timothy Hancock. Thomas Hooton's survey was the next day. I wonder if he was in the boat as well.
You see Maple Shade was settled early due to the creeks were the "roads" then. When we let the Jeremiah Matlack house, etc... be razed we took a historical landmark from a wider area then we think.
-Dennis
Note- There is a deed dated in 1684 for William Matlack getting his 100 acres of land. I do not think that the NJ State Archives has the deed for John Roberts. The 1682 mentions are not deeds but surveys. I personally, and I am not the only one, do not think anyone lived permanently in the area until 1684 after they met with the Indians.


From a January 25, 1963 Philadelphia Inquirer newspaper
Maple Shade newspaper clip scans-
I joined Newspapers.com one week free trial and over about 30 plus hours got these images.
If you have a fast internet connection download the "NewspaperClips" folder. Save the whole thing if you want a "Maple Shade historical library of readings!"
Or open the "NewspaperClips" folder and read ones . Scroll down slowly cause OneDrive loads image thumbnails. (250 MBs!)
Read the ReadMe file in the folder.
den's OneDrive file sharing cloud
You will learn a great scope of knowledge concerning Maple Shade!
-Dennis
Sept 12, 2018
I hate to do this to people but I uploaded more items to the folder. You can go there and under "View" choose "by Modified" and every thing down to original date is new. Or just redownload the whole folder.
I will not add anything more to this folder. Sorry for any trouble caused anyone.
-Dennis
Sept 14, 2018
Dennis Weaver's Clippings
When I was a member of newspapers.com for the one week free trial. besides screen captures etc... I got- I left a "mark" there which anyone can access "clippings" and view/download them without a membership. I have included them in the above OneDrive folder link, but here is the newspapers.com web page.


Ad from an April 1912 Philadelphia Inquirer newspaper




Thomas J.S. Barlow, the president of the Maple Heights Land Company, formed Barlow and Company in 1912. Soon after, Camden attorney John F. Harned bought the Levi Lippincott farm then owned by Henry T. and Emma E. Bleam. It became the Plan for "The Orchards" containing One Acre Farm lots for Barlow and Company. Old timers today remember pear trees at the right side of South Lippincott Ave. near Main Street. They might have been part of the original 3,000 fruit trees.


More great clips-



Boy in contest near Lester Collins' orchard on Forklanding Rd. (1930)


Here is a link to my picture of what was prob. the tree (they cut it down)- Old Oak Tree




1925 Trolley Wreck- It smashed into the Sealect Seafood- Alden Cafe (before the fire and rebuild) building.
Here is a link to the full article- 1925 Trolley Wreck at den's OneDrive NewspaperClips folder Also have a picture.png and a PDF version in the folder as well.


Maple Shade's first Police station
Updated Pages-
I updated the Beech Street informations on the page- (10-5-2018)
Rogers/Collins Dev. Moorestown
I added some things-
Lenola (added more Sept 12, 2018)
I added more photos- (9-10-2018)
Maple Shade Gambling Casino
I added the 1912 ad of the Maple Heights Land Company
See the image below also containing an Edward Cutler Real Estate ad.
I am not adding anymore images to this page as there are too many new finds!
Barlow & Co. Advertisements


From the Philadelphia Inquirer March 24, 1912, page 42
Paul Altobelli's Maple Shade Postcards
Paul is a family friend. Here is the link-
Maple Shade on Flicker
Old Outhouse Hole Bottles-


From the Maple Shade Progress July 5, 1973.
Only lists 24 although says 25


From the Maple Shade Progress March 1, 1973


From the Maple Shade Progress December 27, 1973
Nice Tribute, but William F. Brown founded the Progress in 1916.
From Lumber Trade Magazine 74 (Google Books snippet view only)
Barlow & Company ordered their lumber for their bungalows through John S. Collins and Son Lumber co. which had several locations. Their main yard was in Moorestown but they had one in Maple Shade as well.


John S. Collins & Son Lumber Co. on N. Forklanding Rd., Maple Shade in 1959
Photo by John P. Stroup
1859 Map shows Maple Shade's first brickyard
1859 Map at Library of Congress
You can download this 1859 Map of Burlington County in high formats like TIFF, large jpg. Maple Shade had a brickyard in 1859. The symbol is hard to understand but easy when you compare it to the brickyard that was at the "Mini Pond" as we used to call it as kids - the little park with children's swings near Strawbridge Lake in Moorestown.
-Dennis
Good "book" online to save and search through-
PDF book Burlington NJ Post Towns by Jack Edge
Do yourself a favor and click FILE, SAVE PAGE AS at your left top corner of your web browser thereby saving the PDF file which will take a minute or two to load as it is 14 MB!
When it is a saved PDF the magnifying glass or SEARCH will let you find instances of things say for example "Maple Shade" quickly.
Great read as it tells of the times back when post offices started there was not even a concept of a telephone. This is how important they were! Also it says Stiles Corner (or Corners) for Maple Shade's earlier name. No history of Maple Shade should be without that mention.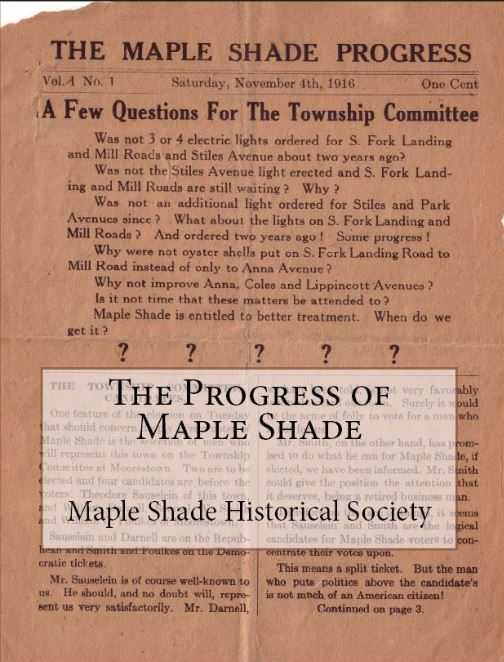 Buying "Progress of Maple Shade" Books-
If you live in Maple Shade and did not get out to the sale and want to buy it direct-
Email me with your phone number or call me and we'll make an arrangement for you to get a copy. The Maple Shade Historical Society makes more money off of direct sales.
-Dennis (member of Maple Shade Historical Society)


dennisleeweaver@verizon.net

Or buy off Amazon.com-
Progress book at Amazon.com


Amazon.com Description for the book-
Maple Shade Historical Society- 100th Anniversary of the Maple Shade Progress newspaper book, William F. Brown started a newspaper in November of 1916. Maple Shade, Lenola, and Moorestown were then together in a large town named Chester Township which dated back to the late 1600s. The newspaper was called the "Maple Shade Progress" and stated that "the progress of Maple Shade was its aim." This meant more street lights, better roads, and most importantly to be hooked up to the Moorestown Water Works. Of course the paper wasn't just about Township improvements and it mostly was, as it was later on, filled with local news. You will see a glimpse of how Maple Shade was in the early 1900s at the time of World War 1. This book contains scans of William F. Brown's Maple Shade Progress newspaper which he published from November 4, 1916 to August 31, 1917. It also contains the first two complete issues, as well as many front pages of issues, published by Frank E. Gerkens Sr. who took over ownership of the paper in September of 1917. All proceeds from the sales of this book benefit the Maple Shade Historical Society.-Dennis Lee Weaver



919 East Main St., Maple Shade

John Muffet & Son Brick and Tileyard house
Originally a double house, built about 1863. Read the Brickyards page for more info.
This house is highly historical and should be preserved and revered in that manner!
21 Bars? (Well liquor licenses)
There was always that elusive number 21. You would see a few Maple Shade Progress headlines saying 21 licenses this year, and when you read down the list there was always only 20. Well here is a real candidate for number 21 (never opened) Again one would have to double check this out-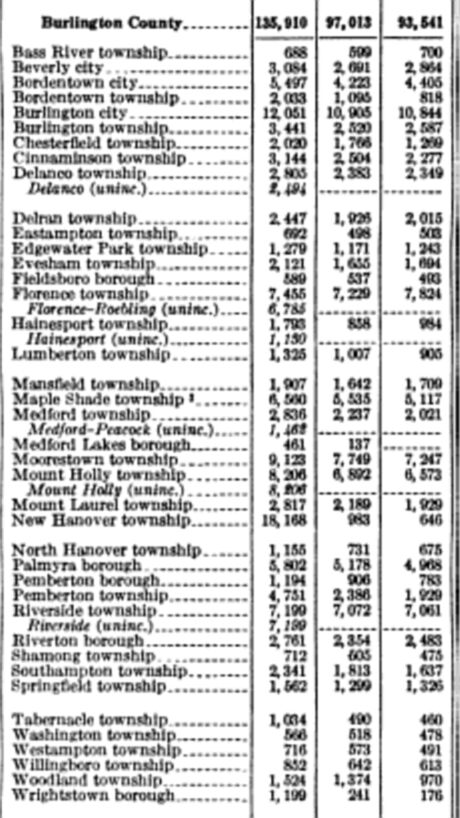 Burlington County Twps. Population for 1950, 1940, and 1930
Compare Maple Shade esp. to 1930 and see how early we turned mostly suburban! Be sure to think of the land area sizes of each of the Twps. as well!
Answers to the Tree Named Streets Quiz-
Elm
Maple
Spruce
Poplar
Chestnut
Cherry
Walnut
Holly
Pine
Cedar





den's email addy is dennisleeweaver@verizon.net