Welcome!
I hope you enjoy learning some of Maple Shade's history.
Maple Shade in the 30s & 40s movie
This collection of old movies of Maple Shade, NJ aired on the Maple Shade Cable TV network. This has been copied from a VHS tape and is not the best quality, but I am not sure how good it got. The beginning and end photos of the Roxy have been added.
Martin Luther King marker at East Main St. and Route 73
Well I hope people appreciate me going out in 12- 13 degree temperature this morning Jan. 21 (MLK Day) to take photos of this marker. Here are a few more photos taken- MLK Day photos
Not to defend Ernest Nichols, who owned Mary's Cafe, but I think this would have been common around here and Martin Luther King being from somewhere else didn't expect it in a northern state like New Jersey.
There is papers concerning this in King's book- from Google books

From the above book in the chronology segment
Willingboro got notoriety by their anti black happenings and the Twp. now being predominantly black. Maple Shade developers spelled out their "policy" earlier on. And Maple Shade was basically almost an all white township until Kings Highway Towers apartments and Spring Hill Apartments let blacks in near the early 70s.


Zoning type of restriction from a Maple Heights section deed of 1916
When the Ku Klux Klan made a come back in the 1920s and 30s. Maple Shade's chapter had a parade and later a cross burning in 1926. The site marked a little down the hill from Pine Ave (cross burning was on hill) is now the "Southern Cross Apartments." Please note that while some people liked the KKK, most people grew very sick of it and it really lost a vote of popularity to say. There was even a meeting where Maple Shaders were going to throw stones at the KKK members!
I talked to a lady who grew up in Maple Shade working first at her Aunt's newspaper store. She said ALL, repeat ALL of the realtors came in their store and said, "If any black people ever come in here asking if there are homes available in Maple Shade, tell them that there are none."
Another racial discrimination is how after World War Two, the government didn't want to make waves so the newly forming suburbs were whites only as blacks coudn't get FHA loans and the whites for the most part didn't want them living near them. (For one reason or another)
It is interesting that Pennsauken started to go the way of blacks moving in and the whites leaving until a movement stopped it. They had meetings and asked, "Why are you moving?" The result is a very ethnically diverse township having whites, blacks, Asians, etc... Here is one article on it-
Intentional Integration Pennsauken NJ
Anyhow, Happy Martin Luther King Day and a thank you to all those responsible for the marker put in this past year at East Main Street and Route 73, Maple Shade, NJ. Special thanks to the Maple Shade Township Council who placed the marker.
Maple Shade Historical Society November Open House-
This is a picture of me, Dennis Weaver, at the November 24, 2018 Maple Shade Historical Society Open House
at the Chesterford Schoolhouse on West Main Street, Maple Shade.
Real Good Historical Books on PDF-
Historical Books in PDF format
This is like the best of the best. Download the whole folder! (Go up a directory to Public, then click on the folder and choose to download it.)
The one called MatlackFamily has writings from Chalkley Matlack and also covers some of the Roberts family and Stiles families, etc...
-Dennis
William Matlack and Cinnaminson-
William Matlack and Cinnaminson
In 1880, William Matlack was the "star of the story." And if you think about it 1677- 1982 was the end probably of his 4 years of indentured service so he was then getting his land. John Roberts on the other hand was living on his land in what is now Willingboro and moved with William Matlack and Timothy Hancock. Timothy Hancock is sort of the "Star" as on his land the Society of Friends nearby met for meeting before the Kings Highway started being built and the one in Moorestown replaced it in 1700.
The Roberts Monument was erected later (1890s) and in recent times some made "John Roberts" into the "Star" or first pioneer or whatever which isn't correct. That monument was never meant to say that. It was to commemorate him.
The Roberts house, at the highest point on South Pine Ave., went through a daughter who married a Lippincott. One son, Thomas, became a brickmaker. A daughter married Joseph Walton a furniture maker. Another son was plowing the field on the land then undivided and found the cave dug out of John and Sarah Roberts.
Later on when he was old he said they should mark the spot, which they didn't exactly as the land was now all subdivided and not owned by their family anymore. Plus along the Turnpike was more suitable so they bought an 1/8 acre lot across from the old John Moffett & Son brickyard house and dedicated the monument on a damp rainy day, the anniversary of the surveys for John Roberts, William Matlack, and Timothy Hancock. Thomas Hooton's survey was the next day. I wonder if he was in the boat as well.
You see Maple Shade was settled early due to the creeks were the "roads" then. When we let the Jeremiah Matlack house, etc... be razed we took a historical landmark from a wider area then we think.
-Dennis
Note- There is a deed dated in 1684 for William Matlack getting his 100 acres of land. I do not think that the NJ State Archives has the deed for John Roberts. The 1682 mentions are not deeds but surveys. I personally, and I am not the only one, do not think anyone lived permanently in the area until 1684 after they met with the Indians.


From a January 25, 1963 Philadelphia Inquirer newspaper
Maple Shade newspaper clip scans-
I joined Newspapers.com one week free trial and over about 30 plus hours got these images.
If you have a fast internet connection download the "NewspaperClips" folder. Save the whole thing if you want a "Maple Shade historical library of readings!"
Or open the "NewspaperClips" folder and read ones . Scroll down slowly cause OneDrive loads image thumbnails. (250 MBs!)
Read the ReadMe file in the folder.
den's OneDrive file sharing cloud
You will learn a great scope of knowledge concerning Maple Shade!
-Dennis
Sept 12, 2018
I hate to do this to people but I uploaded more items to the folder. You can go there and under "View" choose "by Modified" and every thing down to original date is new. Or just redownload the whole folder.
I will not add anything more to this folder. Sorry for any trouble caused anyone.
-Dennis
Sept 14, 2018


Ad from an April 1912 Philadelphia Inquirer newspaper




Thomas J.S. Barlow, the president of the Maple Heights Land Company, formed Barlow and Company in 1912. Soon after, Camden attorney John F. Harned bought the Levi Lippincott farm then owned by Henry T. and Emma E. Bleam. It became the Plan for "The Orchards" containing One Acre Farm lots for Barlow and Company. Old timers today remember pear trees at the right side of South Lippincott Ave. near Main Street. They might have been part of the original 3,000 fruit trees.


More great clips-



Boy in contest near Lester Collins' orchard on Forklanding Rd. (1930)


Here is a link to my picture of what was prob. the tree (they cut it down)- Old Oak Tree




1925 Trolley Wreck- It smashed into the Sealect Seafood- Alden Cafe (before the fire and rebuild) building.
Here is a link to the full article- 1925 Trolley Wreck at den's OneDrive NewspaperClips folder Also have a picture.png and a PDF version in the folder as well.


Maple Shade's first Police station
Updated Pages-
I updated the Beech Street informations on the page- (10-5-2018)
Rogers/Collins Dev. Moorestown
I added some things-
Lenola (added more Sept 12, 2018)
I added more photos- (9-10-2018)
Maple Shade Gambling Casino
I added the 1912 ad of the Maple Heights Land Company
See the image below also containing an Edward Cutler Real Estate ad.
I am not adding anymore images to this page as there are too many new finds!
Barlow & Co. Advertisements


From the Philadelphia Inquirer March 24, 1912, page 42
Paul Altobelli's Maple Shade Postcards
Paul is a family friend. Here is the link-
Maple Shade on Flicker
Old Outhouse Hole Bottles-


From the Maple Shade Progress July 5, 1973.
Only lists 24 although says 25


From the Maple Shade Progress March 1, 1973


From the Maple Shade Progress December 27, 1973
Nice Tribute, but William F. Brown founded the Progress in 1916.
From Lumber Trade Magazine 74 (Google Books snippet view only)
Barlow & Company ordered their lumber for their bungalows through John S. Collins and Son Lumber co. which had several locations. Their main yard was in Moorestown but they had one in Maple Shade as well.


John S. Collins & Son Lumber Co. on N. Forklanding Rd., Maple Shade in 1959
Photo by John P. Stroup


Old and new street signs shown side by side
1859 Map shows Maple Shade's first brickyard
1859 Map at Library of Congress
You can download this 1859 Map of Burlington County in high formats like TIFF, large jpg. Maple Shade had a brickyard in 1859. The symbol is hard to understand but easy when you compare it to the brickyard that was at the "Mini Pond" as we used to call it as kids - the little park with children's swings near Strawbridge Lake in Moorestown.
-Dennis
Good "book" online to save and search through-
PDF book Burlington NJ Post Towns by Jack Edge
Do yourself a favor and click FILE, SAVE PAGE AS at your left top corner of your web browser thereby saving the PDF file which will take a minute or two to load as it is 14 MB!
When it is a saved PDF the magnifying glass or SEARCH will let you find instances of things say for example "Maple Shade" quickly.
Great read as it tells of the times back when post offices started there was not even a concept of a telephone. This is how important they were! Also it says Stiles Corner (or Corners) for Maple Shade's earlier name. No history of Maple Shade should be without that mention.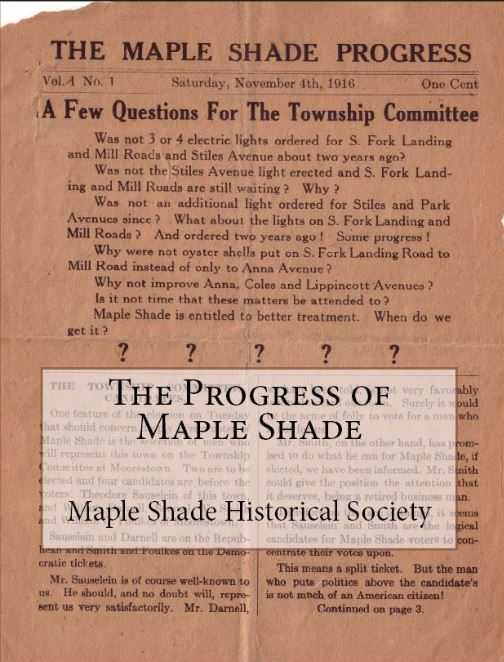 Buying "Progress of Maple Shade" Books-
If you live in Maple Shade and did not get out to the sale and want to buy it direct-
Email me with your phone number or call me and we'll make an arrangement for you to get a copy. The Maple Shade Historical Society makes more money off of direct sales.
-Dennis (member of Maple Shade Historical Society)


dennisleeweaver@verizon.net

Or buy off Amazon.com-
Progress book at Amazon.com



There are different starting dates to Barlow & Co. but I would think that 1912 was it. The first office was on the corner of Holly Ave. and Main St. near their house. (I thought it was at their house until I read a Arthur Cutler paper saying it was a small office built on the corner.)

The Cutler agency took over the Shuster tract and Maple Shade Land & Improvement, as well as the George Martin tracts of One Acre Farms. One Acre Farm sales were a common thing of the time. They really catered to the "regular guy out there" and not to wealthy people. This was also a time period of Temple Baptist Church Pastor Russell Conwell (My Grandpop's pastor!) who spoke a "prosperty Christianity" with a book and sermon entitled "Acres of Diamonds."




919 East Main St., Maple Shade

John Muffet & Son Brick and Tileyard house
Originally a double house, built about 1863. Read the Brickyards page for more info.
This house is highly historical and should be preserved and revered in that manner!
21 Bars? (Well liquor licenses)
There was always that elusive number 21. You would see a few Maple Shade Progress headlines saying 21 licenses this year, and when you read down the list there was always only 20. Well here is a real candidate for number 21 (never opened) Again one would have to double check this out-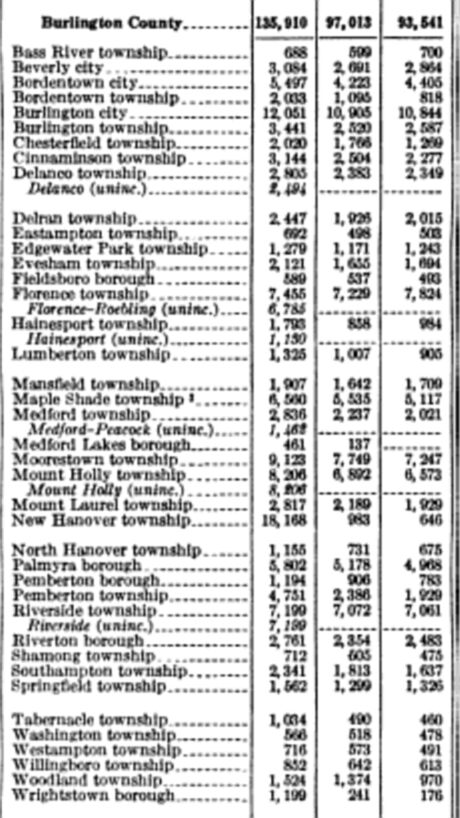 Burlington County Twps. Population for 1950, 1940, and 1930




Compare Maple Shade esp. to 1930 and see how early we turned mostly suburban! Be sure to think of the land area sizes of each of the Twps. as well!




den's email addy is dennisleeweaver@verizon.net