Welcome!
I hope you enjoy learning some of Maple Shade's history.


Old and new street signs shown side by side
1859 Map shows Maple Shade's first brickyard
1859 Map at Library of Congress
You can download this 1859 Map of Burlington County in high formats like TIFF, large jpg. Maple Shade had a brickyard in 1859. The symbol is hard to understand but easy when you compare it to the brickyard that was at the "Mini Pond" as we used to call it as kids - the little park with children's swings near Strawbridge Lake in Moorestown.
-Dennis
Good "book" online to save and search through-
PDF book Burlington NJ Post Towns by Jack Edge
Do yourself a favor and click FILE, SAVE PAGE AS at your left top corner of your web browser thereby saving the PDF file which will take a minute or two to load as it is 14 MB!
When it is a saved PDF the magnifying glass or SEARCH will let you find instances of things say for example "Maple Shade" quickly.
Great read as it tells of the times back when post offices started there was not even a concept of a telephone. This is how important they were! Also it says Stiles Corner (or Corners) for Maple Shade's earlier name. No history of Maple Shade should be without that mention.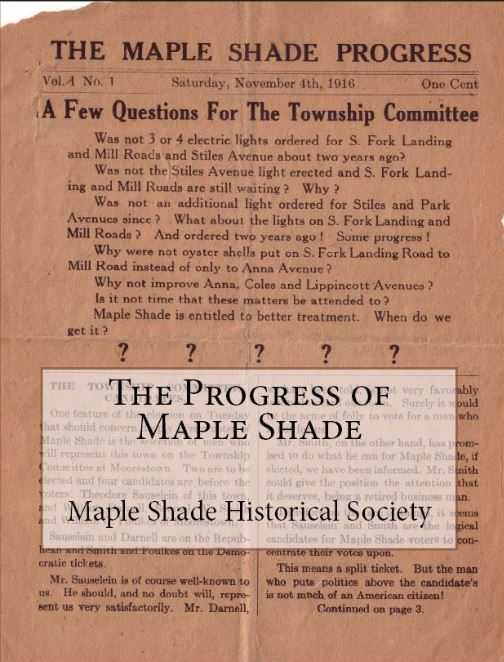 Buying Books (post December 17th sale)-
If you live in Maple Shade and did not get out to the sale and want to buy it direct-
Email me with your phone number or call me and we'll make an arrangement for you to get a copy. The Maple Shade Historical Society makes more money off of direct sales. We have books we ordered that NEED TO SELL! Support the Maple Shade Historical Society and honor people of the past.
-Dennis (member of Maple Shade Historical Society)


dennisleeweaver@verizon.net

Or buy off Amazon.com-
Progress book at Amazon.com



Ad from Phila. Evening Ledger Oct. 31, 1914
There are different starting dates to Barlow & Co. but I would actually think that 1912 was it. The first office was on the corner of Holly Ave. and Main St. near their house. (I thought it was at their house until I read a Arthur Cutler paper saying it was a small office built on the corner.)
The Cutler agency took over the Shuster tract and Maple Shade Land & Improvement, as well as the George Martin tracts of One Acre Farms. One Acre Farm sales were a common thing of the time. They really catered to the "regular guy out there" and not to wealthy people. This was also a time period of Temple Baptist Church Pastor Russell Conwell (My Grandpop's pastor!) who spoke a "prosperty Christianity" with a book and sermon entitled "Acres of Diamonds."
I'll add this to the Barlow Ads page later. -den
919 East Main St., Maple Shade

John Muffet & Son Brick and Tileyard house
Originally a double house, built about 1863. Read the Brickyards page for more info.
This house is highly historical and should be preserved and revered in that manner!
21 Bars? (Well liquor licenses)
There was always that elusive number 21. You would see a few Maple Shade Progress headlines saying 21 licenses this year, and when you read down the list there was always only 20. Well here is a real candidate for number 21 (never opened) Again one would have to double check this out-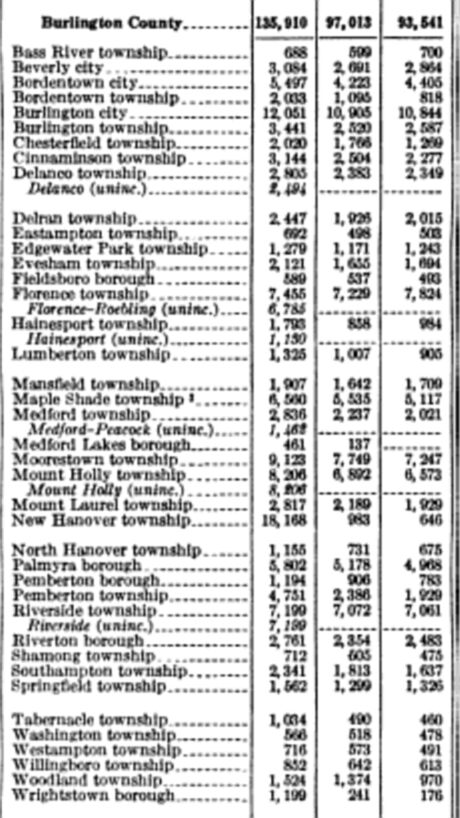 Burlington County Twps. Population for 1950, 1940, and 1930




Compare Maple Shade esp. to 1930 and see how early we turned mostly suburban! Be sure to think of the land area sizes of each of the Twps. as well!





den's email addy is dennisleeweaver@verizon.net