den's Maple Shade History Website




Welcome!

Books for sale-

Dennis' books on Lulu

The Moorestown book makes less than a quarter profit. The Stiles book about 5 dollars. The Village of Maple Shade book makes about 10 dollars profit. All profits I give to the Maple Shade Historical Society minus the initial cost of some draft copies I had to order.

Lulu has a promotion code sale like every 3 days for 10% off or sometimes even 15% off your order.

Apology Statement-

My apology for any spelling errors in the last two books. I thought they were gone but keep finding them and uploading fixed PDFs to Lulu. The earlier you bought a copy the more there would be. I know- not too professional. I always get so excited about having to share things I can't seem to wait.

I found this info on my computer post publishing the second book (MS Village) and have now added it to the bottom of page 17-

According to two notices in the New Jersey Mirror newspaper, dated January 4, 1855 and February 22, 1855, concerning turnpiking the Fellowship Road, the toll house on the Moorestown and Camden Turnpike near Fellowship Road is called the "Upper Toll House."

Obviously if you want a book with the least amt. of spelling errors or maybe even some other improvements that would be more recent (July 30, 2020) you would have to reorder a copy. The content is the same. Perhaps wear your copy out and give it away and order a new one in a year. Maybe you don't even notice a half dozen spelling errors. (I didn't.)

My future books I will spend more weeks editing before releasing them out. Once again I am sorry.

-Dennis Weaver




Special Class-

When I was in 5th grade at Steinhauer School I marveled at this wonder. There was a classroom with large foam rubber or plastic blocks. This was "Special Class."

There were several handicapped children. In those days I do not think that hearing aides were technically advanced and children would wear a rectangle box on their chest I think I remember one kid wearing one of those.

It seemed the custom for kids to pick on others. I was teased in 6th grade for having big ears.

But also in this special class were what seemed to me to be the roughest toughest kids in the whole school. They were even wearing army jackets in 5th and 6th grade!

When they all walked down the hall with their teacher they were ONE group. It was a strange friendship it seemed. NOBODY was going to bother the disabled kids because the tough ones recognized them as "being in their bunch." Actually it seemed to work.

-Dennis



A Story of the Public Schools of Burlington County, NJ

BC Schools book


YES !!!!!!!!!!!!!!!!!!!!!!!!!!!!!!!!!!!!!!!!!
I asked Google Books if they could release it for full viewing and PDF downloading. They just got back to me and have released it for everyone!!!!!!!!!!!!!!!!!!!!!!!!!!!
-Dennis




Previous Idea for Spring Hill Apartments-

I came across this in a Google Books search. I pieced together the snippet view to try to get the most information-

Engineering News-record - Volume 175, Issue 2 - Page 20
1965 - Snippet view

Two big developers are laying plans for two big projects in New
Jersey across the Delaware River from Philadelphia.--
Sylvester J. Lowery, Philadelphia real estate developer, has plans
under way for a $125-million complex of highrise apartments and
commercial and office buildings in Maple Shade. And Jerry Wolman
is planning a $150-million "city within a city" on the Camden,
N.J. waterfront. - - Maple Shade Township officials have already
approved plans for the Lowery project as drawn up by Camden
architect Dante D'Anastasio. Mr. Lowery said construction will
start in the near future on a 15-story, 3] 5-unit apartment house,
the first of seven to be constructed at Route 73 in Maple Shade
Township on the site of the 90-acre Spring Hill Country Club,
recently purchased by Lowery.

Note- Sylvester J. Lowery name doesn't jive with Title records.





My Township website and Business Association History Write up-




Don't forget- You can ask

My website is near filling my payed for space. I am supplementing my website with my OneDrive cloud space from Microsoft which only cost $1.99 per month for 100 GB of space. (Way way more than I am using!)

Sometimes I scan something with my scanner at say 600 DPI and the PNG or JPG is like 30 MB or something which isn't needed but that's what it did so it is good for preservation but I don't know how a printer memory can handle it. Anyhow if you see an image up there that you want me to reduce in size let me know.

Sometimes people do research projects even books and I see they got information from my website. That is great in a way. I wish the Township and Business Association would contact me as their history of Maple Shade is downright inaccurate. But what I was getting at is many webpages are behind the curve of what I might know now as they could have been made years ago.

I am a great historian in many respects but people living at certain time periods know what happened then because it is their history. I usually have been doing things which interest me, some of is not even up at the website now. I am getting around lately to broadening things such as doing research on the Police and Fire Departments. I am not the Maple Shade Historical Society. Sometimes a web search says my pages are. They are not. I am in the Maple Shade Historical Society and would encourage others to join as well.

The future needs people interested in history. I know many of my family and closest friends could seem to care less. I think more of older people are interested. If the bug bites you, like any interest, it sort of gets you high is the only way to explain it. I have done many historical projects from Chain of Titles, newspapers on microfilm searches, and oral history interviews. I have things for Maple Shade I am planning to do and have not yet done.
-Dennis Weaver
March 30, 2020



American Legion VFW-

I am working on getting stuff up in this OneDrive folder
If anyone has a photo of the old American Legion house where the Inglesby parking lot is, the Maple Shade Historical Society as well as the VFW etc... could use it.
dennisleeweaver@verizon.net

As of Sunday March 29th I rescanned the Memorial photograph because I had a Fade adjustment setting checked on on my scanner which it didn't need, so now the scan is better.

The Maple Shade VFW Incorporation papers and the Memorial photograph with Ralph J. Steinhauer and others in it (including George Barbour) were given to me to give to the Maple Shade Historical Society by Roger Barbour after his mother had died and he was cleaning out things from his parents' house on Terrace Avenue. Roger's father was George Barbour.

Also I added a few things to the Maple Shade Fire Dept. folder.
-Dennis




Two old street names-

When the Shuster Tract did not have adjacent subdivisions South Forklanding Road took a sharper turn. Later the turn was renamed Crawford Avenue. When the Levi Lippincott farm was subdivided as "The Orchards" the street Gradwell Avenue at some point replaced East Ave. in the Shuster Tract.











Later on I will move this info to the Streets Trivia page.




Horace Roberts-

I put up a Horace Roberts obituary and a text document of the land he owned in Maple Shade in my Horace Roberts Excerpts folder.
I got it from https://www.newspapers.com/clip/33605774/courier-post/
He owned much of the north side of town.




Turkey Farms

There were two turkey farms in Maple Shade. One was on Orchard Ave. owned by John and Therese Martin. (Swiss French) Another was on Kings Highway owned by the Martinovich family.

Across the street from the Martin's turkey farm on Orchard Ave. was Rudy Zillincar's farm where he sold eggs. He was known as "the egg man." He left the eggs out and you took them and paid by the honor system.

The Evan Martinovich turkey farm was on Kings Highway just west of Lenola Rd. aprox. where the Iron Hill Restaurant is now.

Here are some newspaper articles on the Martinovich turkey farm-
den's OneDrive cloud




The Orchards folder

Orchards folder at den's OneDrive
http://www.mapleshadehistory.com/Streets.html I have a few more things to add later but here is some stuff.
See also- Streets Trivia page I will later put this up somehow on the OneDrive folder.
Where I live, subdivision called "The Orchards."
-Den



Women's History Month

March is Women's History Month – commemorating and encouraging the study, observance and celebration of the vital role of women in American history.

You heard of "Rosie the riveter.," and women's changing roles in and since World War 2. But have you heard of women's WPA sewing rooms during the Depression? There were also other WPA jobs for women.

These are the same book. The first one is interesting because it was donated by the New Jersey State Library in Trenton, NJ. This is great that they are doing this. Pick which one you want to download or read.


Division of Women's and Professional Projects: for the period ending July 31, 1936 from Archive.org

Division of Women's and Professional Projects: for the period ending July 31, 1936 from Google Books


You can look up your local town or area such as Maple Shade, Lenola, Moorestown, etc...







Martin Luther King Jr. memorial plaque at East Main St. and Route 73 jug handles, Maple Shade,
where the Moorestown Pub once stood. (Mary's Cafe in the 1950s)





Another Horace Roberts article-

Well actually there are two articles in this Country Gentleman PDF. (See the click Previous, Next or View All ribbon)
In 1912 he owned a dozen farms. He would come to own over 20 with the ones in Lenola and Maple Shade given over for bungalows.
These articles contain pictures of Italian berry pickers and their housing. The PDF reader has a magnifier at the top left but still the print still isn't very large. You can up it just a little more using your web browsers View/ Zoom in tool.

Two 1912 Horace Roberts articles on Google Books

Better yet-
If you wish to save the best Horace Roberts talks in PDF format, here they are EXTRACTED from the books they came in. The above one is the HR 1912 PDF.-
Horace Roberts PDF EXTRACT files

There is a book published years ago by the Moorestown Historical Society called "Memories of the Home Farm" written by Mary Roberts Calhoun, a daughter of Horace Roberts and she tells about a page or two of information on the Italian workers who would come in summers to work and then they would turn in their tickets they received for their pickings and Horace Roberts would pay them in cash and they would return to South Philadelphia.

The book also tells how Horace Roberts would ride his car to get from one end of an orchard to another or even on the dirt country roads and sometimes get stuck in the mud and everyone would have to get out and push. Or if he got stuck bad a horse or mule had to pull the car free.




Attention-

I need to talk to Bill Gerkens. I lost your email addy and need to get in touch so please email me.
dennisleeweaver@verizon.net
Oscar Anderson
Oscar Anderson was the builder for Barlow & Company.
He had an office in the Barlow Building.
He built a large home for himself on Mill Road at Crawford Ave., where a store now is, in 1916 or 1917.
He built the Barlow Building.
He built the Rosa Rynning white stone house at East Main Street and Walnut Ave.
He built the bungalows in the Maple Heights section of Maple Shade.
He built the bungalows on Washington Avenue in Moorestown.
About that same time he built my bungalow on Lippincott Avenue.
I do not think he built all the bungalows in some Horace Roberts owned tracts. Horace Roberts might have hired a builder as the "Memories of the Home Farm" book suggests. (the ones that look a bit different) It says on page 44 "At this time Father virtually retired from farming and put his energies into building houses on acre lots. His head carpenter was Isaac Farrow of Marlton."
He built bunglaows all over Maple Shade and as Arthur Cutler said he could build them fast.
He built bungalows in Lenola and other sections of Moorestown.
He built bungalows in Cherry Hill (I would assume as he was the builder for Barlow & Co.) Merchantville Terrace now called the Barlow section.

Anyhow here is his obituary. I am sure the Maple Shade Progress would have a much better one. They might not have mentioned him being a builder as it was the Depression and Barlow & Company went under.

The NJ Mirror, Nov. 28, 1934, pg 8, col 1 says-
Anderson- November 22 in Maple Shade, Oscar H. Anderson aged 49.
-Dennis
Historical Destruction-
It's almost like I see it coming. What's the most historical thing to take out next?
They are razing Mennels/ Red Carpet/ Charlie Browns but this block of old houses and even more specifically this house was the original village of Maple Shade!
Here is an early mention in an advertisement from the New Jersey Mirror newspaper-
January 18, 1855, Page 2, Column 6

Two story house and Blacksmith Shop to let
Two story house and Blacksmith shop to let. They are situated on the South Side of the Turnpike Road between Moorestown and Camden, about 3 miles below Moorestown and 6 miles from Camden. Possession given on March 26, 1855. Benjamin Stiles.
John and Laura Mennel-
Laura Mennel was the daughter of Christian and Louisa Frech. Below is a summary of her marriage announcement to John Mennel from the New Jersey Mirror, March 2, page 2, column 8-
In Camden, March 2, 1896, by Rev. Clarence A. Adams, John Mennel, of Merchantville, and Laura Frech, of Burlington County were married.
John and Laura Mennel lived in the hamlet of Sorrel Horse, across the street from the Sorrel Horse Hotel. Sorrel Horse was located where Haddonfield Road and Route 130 meet.
John and Laura Mennel and family moved to the village of Maple Shade about 1904 and first lived in the northern half of the large double house on South Poplar Avenue. In 1905 due to her efforts and the community's, Maple Shade again had a post office which was at the Mennel's store.
In 1909 William Frech bought back from the Larzelere family the old (circa. 1850) blacksmith house, his father and mother once lived in, for his sister Laura Mennel. The Mennels then moved their store to there, "Mennel's Dry Goods store and Maple Shade Post Office." Within a few years a right side addition was put on it.
The Maple Shade Post Office would be at their store until 1926 when it was moved to 16 South Forklanding Road. John and Laura Mennel had a son Harry B. (Sr.), and a daughter Louisa. Harry later changed the store to a bar called Mennel's Inn. Later it was bought and made the Red Carpet Lounge, and today it is a Charlie Brown's Restaurant.


Not much else was on Main Street then and it was the Maple Shade Post Office

Lenhardt's hardware Store Photos-
Lenhardts was sold to Mike Ferrace who had Mike's Hardware, which was later run by Mike's son Dave.
These three photos are from Marie Franzen who knew the Lenhardt family and had an uncle who worked for them.
The Edward Cutler Real Estate Field Office was on N. Forklanding near Main from about 1906-7 til about 1916 when the Childs' store (later the chain bought by Acme) was built there. Then it was on Main Street. It was also used by Police Chief Clarence Ward, who started in 1914, as the police station. In November of 1917 it became fully the Maple Shade Police Station until 1927 when the old Municipal Building was built. (See the Progress of Maple Shade book if you have one.)


Real Estate field office on North Forklanding Rd. behind Congregational Church Sunday School.
(They were using the old Methodist Church bldg. on Main St. and N. Forklanding Rd.)
Police Chief Ward-
On February 1, 1914 Clarence L.E. Ward was appointed the first policeman in Maple Shade and was its Chief of Police until he retired in 1937. The Edward Cutler real estate field office was used for Maple Shade's first police station.
E. Brubaker and Sons uniforms (overalls)
When did they move the uniforms factory from Philadelphia to Maple Shade? 1917.
Your homework assignment if you bought a "Progress of Maple Shade" book is to look up the following papers for Brubaker infos.-
Number 20, March 30, 1917
Number 26, May 11, 1917
Number 63, February 4, 1918
Number 66, February 22, 1918
Horace Roberts on "One Acre Farms"-
Horace Roberts had many subdivisions for Barlow & Co. as "One Acre Farms" in Maple Shade and Lenola.
From Google Books search
(Back on page 27 it says the question is being answered by Horace Roberts.)
Maple Shade in 1907 Vicinity of Camden Atlas-
Or open on Youtube- 1907 Maple Shade atlas map
School Math in 1804-
From Enoch Roberts' cyphering book (spelled today- ciphering)
2- 8- 1804
(At Burlington Historical Society)
There is a circular pond, whos area is 5028 4/7 square feet, in the middle of which stood a pole 100 feet high; now the pole having been broken, it was observed that the top just struck the brink of the pond; what is the height of the pole?
Ansr 41.99
(I also have a 68 written)
Two men depart from the same place at the same time, one travels 30, and the other 35 miles a day; how far are they distant from each other after 7 days, supposing they both travel the same road, and how far apart if they travel in contrary directions
ansr 35 miles were going the same direction
455 miles contrary way
If the earth be 360 degrees in circumfurance and each degree 690 miles, how long would a man be in traveling round it, who advances 20 miles a day; reckoning 365 1/4 (I also wrote 364 1/4) days in a year
Ansr 3 years 155 1/2 days
Pennsauken in first surveys-
The name "Roberts" is highlighted simply because I searched under that to locate the surveys in the PDF.
On Swedish maps of "New Sweden" from the mid 1600s the old name for the Pennsauken Creek is spelled Sinsessingh."
http://sites.rootsweb.com/~nycoloni/nswdmp.html
https://digitalcollections.nypl.org/items/6128c209-31c3-3cd6-e040-e00a180602ea
And here is another great map, but not of New Sweden-
https://www.loc.gov/resource/g3810.ct000064/?r=0.323,0.152,0.31,0.186,0
Two halfs of the Roberts 267 acres-
Speaking of "Roberts" and lands,this note is from a Chalkley Matlack memo book of notes. The southern half of the Roberts' land was given to Enoch. I think it was his son Samuel who had the saw mill but I am not sure without investigating the matter more. That saw mill was running in 1810 I know because Burlington County Historical has a record book from it. A later house for a Samuel Roberts (not same one) was erected on the Mill Road School land in 1861. A Samuel Roberts born in the house is highlighted in a Burlington Camden Counties Biography book.
The north half of the Roberts' land would lastly be "Lippincotts." A Roberts daughter married a Lippincott. They were the ones who started the brickyards and erected the "Roberts' Monument." What wasn't sold to the Moffet brickyard or owned by Joseph Walton was sold to John Mason who sold all but the house on the peak of South Pine Ave. on a few lots, to Thomas Barlow, president of the Maple Heights Land Co.
Here is some more notes from Chalkley Matlack's note books From FamilySearch.org (Jesus Christ of Latter Day Saints site)
Happy Memorial Day
I went to the parade and ceremony and hotdog lunch today. I was surprised at the number of Maple Shaders who died this past year at war! Sad. Here is some info about Antrim and Mentz-
Headline from midwest newspaper, October 31, 1924.

TO HAVE POST HONORING TWO NEW JERSEY YOUTHS: MAPLE SHADE,N.J.....will soon have an American Legion Post, the ANTRIM-MENTZ POST in honor of two Maple Shade youths and heros of the World War 1.
Harry Antrim, WW 1 Hero from Maple Shade N.J. d-1918. Harry Antrim enlisted in the United States Navy at the beginning of the war, and was assigned to the U.S.S. Buena Ventura, a supply boat, which was torpedoed on SEPT. 16, 1918. ANTRIM was rescued in a lifeboat, but heroically went back to his ship, which was sinking and attempted to save some of his comrades. ANTRIM went down with the U.S.S. BUENA VENTURA.
NORRIS M. MENTZ was a private in headquarters company, Three Hundred and fifteenth Infantry and was wounded in action in France and later returned to the ranks in OCTOBER 1918. He was again wounded in action NOVEMBER 5, and died shortly after from his wounds. his body was returned to the UNITED STATES and interred in ARLINGTON NAVAL CEMETERY with full naval honors.
Gerkens Brothers-
Bill Gerkens Jr. emailed me and after he saw the Maple Shade in the 30s and 40s video he said, "I really enjoyed the video. In the first minutes of the film, in the newspaper, are my father Bill Sr. the young boy and his oldest brother Frank with glasses." He didn't know who the other man was smoking the pipe and talking on the phone was.
Frank Sr. And Minnie had the house on Wallace Ave. My father William and brothers Frank, Paul and sisters Elizabeth and Elsie all grew up there.
Frank Jr. on Mecray Lane, Elsie on Woodlawn Ave. (Maple Shade gardens), Elizabeth in Marmora, William on Terrace Ave., and Paul in Somers Point who passed away two years ago at 103 yrs.
Oh, the house on Wallace Ave. was not torn down. It was moved to Mildred Ave.


Here are the brothers, top down Frank, Paul and Bill.


In the newspaper, Frank left and Bill right.
New Page-
New page about the corner where the Custard Stand is. The house next door was never the toll gate house. The Custard Stand lot is where a toll house was.

Note- More info added on March 1. BTW- This is the page which starting me getting into getting more toll gates information.

Custard Stand lot
On February 22, I went to the Burlington County Clerk's Office in Mt. Holly and got the title chain for it. Now added.



Note-
All the streets info and maps download links have been moved. See the sidebar index.



Arbor Day-
In the 1800s NJ School Reports only one holiday is mentioned- Arbor Day. You did not have off but went to school and sang songs and heard talks and then planted a tree somewhere on the school grounds. I think they knew back then something we do not realize as much now. How important trees are!
The following is from the (Philadelphia) Evening Public Ledger., April 10, 1918, Postscript Edition, Page 11-
WETS MAKING FIGHT AT MAPLE SHADE, N.J.
Local Optionists Discover Quiet Efforts to Defeat Dry Voters Next Week
Moorestown, N.J., April 10,
With the election less than a week off, when the residents of Chester township will vote on local option, the dry advocates have awakened to the fact that the saloon element that was supposed to have abandoned the fight has been hard at work in Maple Shade. Residents of that town are being lined up in hope that the local option advocates in Moorestown, feeling secure in their strength, would be caught napping and be outvoted by the residents of Maple Shade.
The anti- saloon men and women of Moorestown who have been idle are now making big effort to arouse the town to the dangers of the situation. It is generally believed that the local optionists will win. If Moorestown was a borough it would be found that nine tenths of the voters are against the saloon, but the town is a part of Chester township. The election will be on next Tuesday.
Here is the link to the newspaper (hard to read because of light print)-
newspaper at Chronicling America
The outcome of that election is in the book "The Progress of Maple Shade."
NJ Tourism!
Years ago when Joe Laufer, the official Burlington County historian, was alive, he had meet ups with the Historical Societies and local historians and history lovers. He was very much involved in the restoration of Smithville Mansion as that's natural as he lived in Smithville. He got started in history after moving to New Jersey and he noticed the area had many Quaker Meeting Houses so he photographed them. A emphasis of his was "NJ historic tourism."

Have you ever gone on vacation to a family member's home out of this area and had time you wanted to get the most out of and so you said, "What is there to see around here?" You then went to some local historical place and you LEARNED THINGS and enjoyed the visit. Perhaps the surprising thing is many locals who lived there for years perhaps never bothered to go to the place you visited.

To see 1700s houses there is the Burlington County Historical Society, the Griffith Morgan and Burrough Dover houses in Pennsauken, Moorestown Historical Society, Camden County Historical Society, and others.

We have variety- the Air Victory Museum in Lumberton, Kirby's Mill in Medford, Burlington County Farm Fair, Burlington County Prison built in 1811 in Mt. Holly, and don't forget Maple Shade Historical Society's Chesterford Schoolhouse. I know I am leaving a lot out. I would think that about every town has somewhere to visit.

-Dennis Weaver


NJ Schools in the 1800s-
I took screen captures of interesting items from the New Jersey School Reports-
Snippets from 1800's School Reports
Progress of Maple Shade books Note-
If you are interested in buying a copy or want to know more about the book then scroll to this webpage's bottom. In the making of the book of the scans of the 1916 and 1917 Maple Shade Progress newspapers I have one regret in that in the indroduction I did not state that the scans (or images) in the 8.5 by 11 inch book are actual size. That is exactly how big the original newspapers were! The first ones measured like 7.5 by 10 or something which let it work out well with the needed book margins. The size you see in the book is the size the papers were.
Edwin F. D'Ancona-


Photo from the Maple Shade Progress newspaper, Nov. 4, 1937
He and Catherine Sixberry won Township committee positions.
Unless you're fairly old, well let's just say it- real old, you probably never heard of him before. In the history of Maple Shade he was a very important powerful etc.... person. I haven't researched him but have run across enough things to at least mention them. (and research him in the future!)
Arthur Cutler said that Barlow & Company was started by Thomas Barlow Sr. and his sons Thomas and Frederick and adopted son Edwin D'Ancona who was a salesman. A earlier census for the Barlow family listed him as living with them at Main Street and Holly Ave. and as having been "taken in." Arthur Cutler also said that Edwin D'Ancona and his wife opened The Sweet Shoppe at about 113 E. Main Street. It was a favorite spot of children and adults alike.
A 1916 or 1917 Progress has Edwin leaving the Childs' Store in Maple Shade to work for the new Acme in Moorestown and states something like "He ought to know sales." I saw later Progress articles where he was the Mayor of Maple Shade and some where he worked for Barlow & Company. He seemed to be in and out of working at Barlow & Co. Anyhow he would probably best be remembered for being involved in politics.
Chester Twp. Old School Numbers-
From the "1900 Hauck's Excelsior Directory"-

Township Schools-

No. 1- Maple Shade. Located on Camden Pike, in Maple Shade. Anna M. Grady, teacher. Pupils enrolled, 25.
No. 2- Chester Brick.
No. 3- Moorestown.
No. 4.- Stanwick.
No. 5- Lenola.
No. 6- Poplar Grove.
No. 7- West Moorestown (colored school).
No. 8- Moorestown High School.
Now if we were to go up to the year 1920, Maple Shade's one room school, named "Maple Shade School No. 1" was replaced in 1909 with the Poplar Avenue school as "Maple Shade School No. 1." There was also a "Maple Shade School No. 2" on Chestnut Avenue. (Steinhauer School)
I don't know everything involved but I looked in the book "Moorestown and her Neighbors" by George DeCou and it states that in 1917 the Chester Brick Schoolhouse was sold to Joseph Matlack where it stayed on the farm and was later used in the summers to house berry pickers.
You see after Moorestown separated they were stuck with schools like "Schools No 5, 6, 7" etc... and we had Schools 1 and 2, so we just continued on with 3 on Mill Road, and 4 on N. Forklanding Rd.
The Chesterford School was at the opposite end of the spectrum before the "Township School Act" of 1894 changed the district numbers from county to townships. It was then "School No. 27."
It was Camden
When Charles F. Shuster filed the "Shuster Tract" subdivision plan of the once Benjamin J. Stiles farm in 1887 he advertised-
Advantages of living at "Maple Shade"
Fourteen Trains each way daily.
High and Rolling Ground.
No Malaria.
Pure water at 16 feet.
Economy in Living.
Pleasant Walks.
Fine Drives.
The Properties are absolutely sure of increase in value. Sold for Cash or on Installments. No rent Days.
Landlords unknown.
Well before the Cutler Agency took over this in about 1906 you could practically count the houses built there on one hand!
The train wasn't enough to suburbanize Maple Shade. Or bring industry as some have eluded. A brickyard was already going since the mid 1800s.
If we jump way ahead of ourselves, you might say the Benjamin Franklin Bridge (previously the Delaware River Bridge) which opened in 1926 (You can always remember because it was the Sesquicentennial.) was the most powerful factor. Maybe in the Post WW2 housing boom but not earlier.
You see since the 1700s when Cooper's Ferry crossed farmers over the Delaware River to Market Street in Philadelphia something else was in the future. It was getting there when the Moorestown and Camden Turnpike Company bought the 1794 stage road to market but by post WW1 and into the twenties it was a fully emerged force-
CAMDEN, NJ
Here is a segment from a 1920 Maple Shade census showing presumably as employers- the New York Shipyard, Victor Talking Machine, and the Campbell Soup Company.
New Page-
New Page-
It's made from Chalkley and Asa Matlack Stackhouse writings on the Stiles family

Chalkley Matlack talks Stiles
All the quotes are from the "Matlack Family PDF" in this folder-
Historical Books in PDF format
I copy pasted the text, but then like a third to half comes out gobbily gook and you have to fix it, but it still saved a lot of time from just hand copying it all. I organized it with Stiles names. As of February 5-7, if you print out things I would wait because I am still correcting uncapitalized words, etc...
Maple Shade in the 30s & 40s movie
This collection of old movies of Maple Shade, NJ aired on the Maple Shade Cable TV network. This has been copied from a VHS tape and is not the best quality, but I am not sure how good it got. The beginning and end photos of the Roxy have been added.
Do yourself a favor and open the video up in Youtube- Maple Shade, NJ in the 30s and the 40s That way in the Description you can see the contents and time stamp links.
Real Good Historical Books on PDF-
Historical Books in PDF format
This is like the best of the best. Download the whole folder! (Go up a directory to Public, then click on the folder and choose to download it.)
The one called MatlackFamily has writings from Chalkley Matlack and also covers some of the Roberts family and Stiles families, etc...
-Dennis


From a January 25, 1963 Philadelphia Inquirer newspaper
Maple Shade newspaper clip scans-
I joined Newspapers.com one week free trial and over about 30 plus hours got these images.
If you have a fast internet connection download the "NewspaperClips" folder. Save the whole thing if you want a "Maple Shade historical library of readings!"
Or open the "NewspaperClips" folder and read ones . Scroll down slowly cause OneDrive loads image thumbnails. (250 MBs!)
Read the ReadMe file in the folder.
den's OneDrive file sharing cloud
You will learn a great scope of knowledge concerning Maple Shade!
-Dennis
Sept 12, 2018
Dennis Weaver's Clippings
When I was a member of newspapers.com for the one week free trial. besides screen captures etc... I got- I left a "mark" there which anyone can access "clippings" and view/download them without a membership. I have included them in the above OneDrive folder link, but here is the newspapers.com web page.


Ad from an April 1912 Philadelphia Inquirer newspaper




Thomas J.S. Barlow, the president of the Maple Heights Land Company, formed Barlow and Company in 1912. Soon after, Camden attorney John F. Harned bought the Levi Lippincott farm then owned by Henry T. and Emma E. Bleam. It became the Plan for "The Orchards" containing One Acre Farm lots for Barlow and Company. Old timers today remember pear trees at the right side of South Lippincott Ave. near Main Street. They might have been part of the original 3,000 fruit trees.


More great clips-



Boy in contest near Lester Collins' orchard on Forklanding Rd. (1930)


1925 Trolley Wreck- It smashed into the Sealect Seafood- Alden Cafe (before the fire and rebuild) building.
Here is a link to the full article- 1925 Trolley Wreck at den's OneDrive NewspaperClips folder Also have a picture.png and a PDF version in the folder as well.


Maple Shade's first Police station


From the Philadelphia Inquirer March 24, 1912, page 42
Paul Altobelli's Maple Shade Postcards
Paul is a family friend. Here is the link-
Maple Shade on Flicker


From the Maple Shade Progress July 5, 1973.
Only lists 24 although says 25


From the Maple Shade Progress March 1, 1973


From the Maple Shade Progress December 27, 1973
Nice Tribute, but William F. Brown founded the Progress in 1916.
From Lumber Trade Magazine 74 (Google Books snippet view only)
Barlow & Company ordered their lumber for their bungalows through John S. Collins and Son Lumber co. which had several locations. Their main yard was in Moorestown but they had one in Maple Shade as well.


John S. Collins & Son Lumber Co. on N. Forklanding Rd., Maple Shade in 1959
Photo by John P. Stroup
Good "book" online to save and search through-
PDF book Burlington NJ Post Towns by Jack Edge
Do yourself a favor and click FILE, SAVE PAGE AS at your left top corner of your web browser thereby saving the PDF file which will take a minute or two to load as it is 14 MB!
When it is a saved PDF the magnifying glass or SEARCH will let you find instances of things say for example "Maple Shade" quickly.
Great read as it tells of the times back when post offices started there was not even a concept of a telephone. This is how important they were! Also it says Stiles Corner (or Corners) for Maple Shade's earlier name.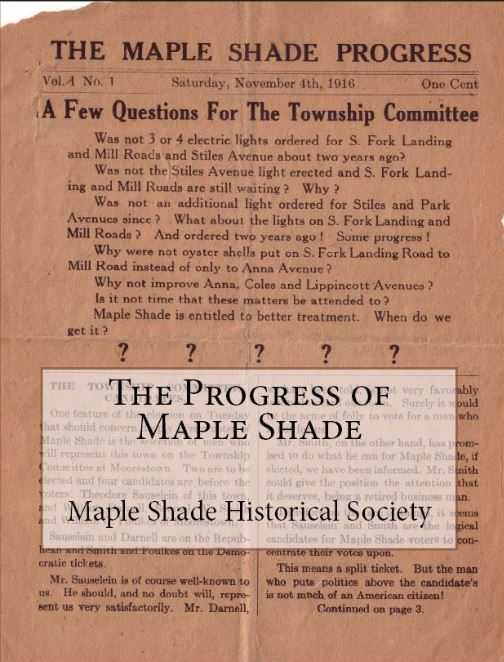 Buying "Progress of Maple Shade" Books-
If you live in Maple Shade and did not get out to the sale and want to buy it direct-
Email me with your phone number and we'll make an arrangement for you to get a copy. The Maple Shade Historical Society makes more money off of direct sales.
-Dennis (member of Maple Shade Historical Society)


dennisleeweaver@verizon.net

Or buy off Amazon.com-
Progress book at Amazon.com


Amazon.com Description for the book-
Maple Shade Historical Society- 100th Anniversary of the Maple Shade Progress newspaper book, William F. Brown started a newspaper in November of 1916. Maple Shade, Lenola, and Moorestown were then together in a large town named Chester Township which dated back to the late 1600s. The newspaper was called the "Maple Shade Progress" and stated that "the progress of Maple Shade was its aim." This meant more street lights, better roads, and most importantly to be hooked up to the Moorestown Water Works. Of course the paper wasn't just about Township improvements and it mostly was, as it was later on, filled with local news. You will see a glimpse of how Maple Shade was in the early 1900s at the time of World War 1. This book contains scans of William F. Brown's Maple Shade Progress newspaper which he published from November 4, 1916 to August 31, 1917. It also contains the first two complete issues, as well as many front pages of issues, published by Frank E. Gerkens Sr. who took over ownership of the paper in September of 1917. All proceeds from the sales of this book benefit the Maple Shade Historical Society.-Dennis Lee Weaver



919 East Main St., Maple Shade

John Muffet & Son Brick and Tileyard house
Originally a double house, built about 1863. Read the Brickyards page for more info.
This house is highly historical and should be preserved and revered in that manner!
21 Bars? (Well liquor licenses)
There was always that elusive number 21. You would see a few Maple Shade Progress headlines saying 21 licenses this year, and when you read down the list there was always only 20. Well here is a real candidate for number 21 (never opened) Again one would have to double check this out-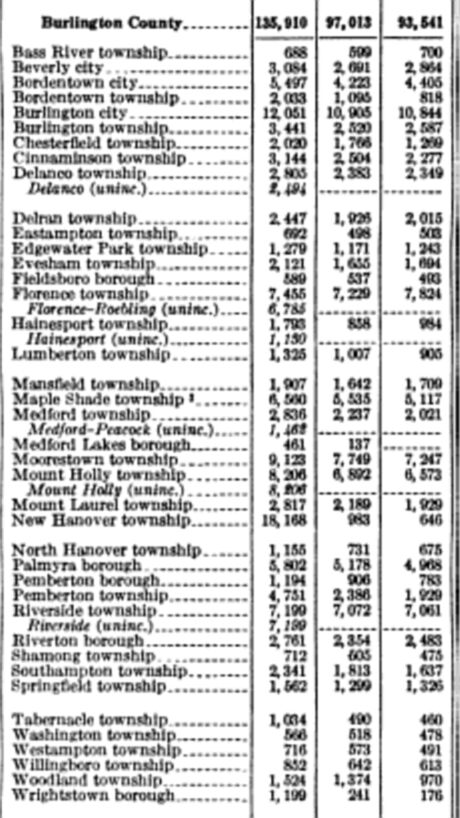 Burlington County Twps. Population for 1950, 1940, and 1930




Compare Maple Shade esp. to 1930 and see how early we turned mostly suburban! Be sure to think of the land area sizes of each of the Twps. as well!




den's email addy is dennisleeweaver@verizon.net