Welcome!
I hope you enjoy learning some of Maple Shade's history.
In The Orchards
The early developments (pre WW2) would leave the farm houses on larger lots and many were One Acre farms lots which would later be divided. Builders built on a side so they could be subdivided at a later time. One would also wonder what farming remained on unsold lots.
At the top of South Lippincott Avenue there were pear trees. The development around the Levi Lippincott farmhouse was even named "The Orchards." Below is a photo of children on a swing in the side yard of a house on Anna Ave. (looking toward S. Lippincott) I think those pear trees actually are on lots on the east side of the street. (The right side where the farmhouse is, I know from several elderly people, was pear trees up to Main Street.)
Oh, by the way a man who had lived on South Lippincott said when he was a boy there were no street signs and the children called South Lippincott Ave. "Pear Street."
Studies of Stiles, The Stiles Families of Maple Shade
I put my "book" up online that I made for a Maple Shade Historical Society meeting I talked at. This is in HTML format and not printer friendly. I have yet to make the small additions and corrections to the PDF version.

Studies of Stiles book

New- Arthur N. Cutler, This Is Your Life-
It has some great early history on him. It does not even touch upon his GREAT work to the Maple Shade Historical Society or Maple Shade Lions Club.
Arthur Cutler Tribute from Realtors
Early History Talks
My Youtube videos on Pre Maple Shade background history

Ad from Phila. Evening Ledger Oct. 31, 1914
There are different starting dates to Barlow & Co. but I would actually think that 1912 was it. The first office was on the corner of Holly Ave. and Main St. near their house. (I thought it was at their house until I read a Arthur Cutler paper saying it was a small office built on the corner.)
The Cutler agency took over the Shuster tract and Maple Shade Land & Improvement, as well as the George Martin tracts of One Acre Farms. One Acre Farm sales were a common thing of the time. They really catered to the "regular guy out there" and not to wealthy people. This was also a time period of Temple Baptist Church Pastor Russell Conwell (My Grandpop's pastor!) who spoke a "prosperty Christianity" with a book and sermon entitled "Acres of Diamonds."
I'll add this to the Barlow Ads page later. -den
For Sale Again- 919 East Main St., Maple Shade

John Muffet & Son Brick and Tileyard house
Originally a double house, built about 1863. Read the Brickyards page for more info.
This house is highly historical and should be preserved and revered in that manner!
21 Bars? (Well liquor licenses)
There was always that elusive number 21. You would see a few Maple Shade Progress headlines saying 21 licenses this year, and when you read down the list there was always only 20. Well here is a real candidate for number 21 (never opened) Again one would have to double check this out-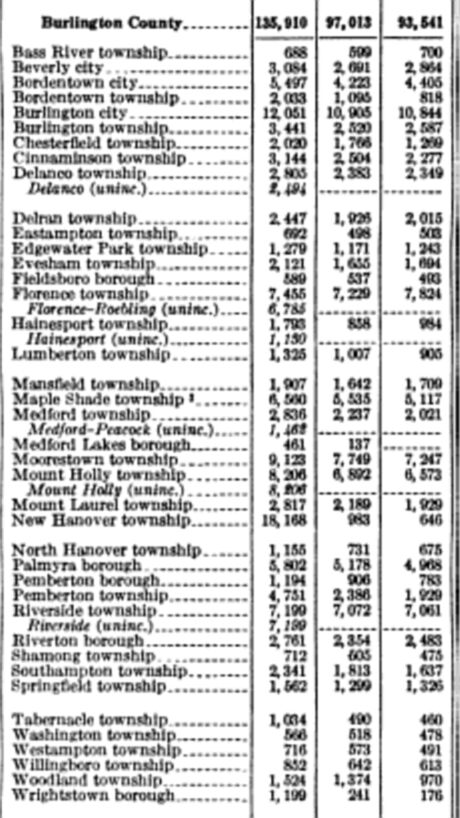 Burlington County Twps. Population for 1950, 1940, and 1930




Compare Maple Shade esp. to 1930 and see how early we turned mostly suburban! Be sure to think of the land area sizes of each of the Twps. as well!





den's email addy is DennisLeeWeaver@Verizon.net



I do not have to do it, but I would like to thank angelfire.com. They are hosting this website for aprox. 32 dollars a year for 100 MB of space, with no ads, and a domain name for another 13 dollars. If you want to put up a website I would recommend them!

This website is back again as of October 12, 2013. All the history lovers out there will be glad! Be sure to attend all Maple Shade Historical Society events as well as those events of surrounding historical societies that you might be interested in. -den